H&M's Fast Fashion Gives a Slow Start to Organic Cotton
By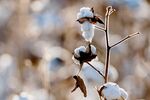 Neil Young took to his website (sign-in required) last week to ask fans to join in boycotting non-organic cotton. Among several reasons mentioned by the rock star and longtime environmentalist was this factoid:
"2,700 liters of water is used to grow the cotton for just 1 t-shirt. … That's enough water for 1 person to drink for 900 days or enough water to flush your (non low flow) toilet 270 times!"
Young's call to action happened to coincide with the release of Textile Exchange's 2013 Organic Cotton Report, an annual look at the top 10 organic cotton users by volume and growth (PDF). This year, fast-fashion chain H&M emerged as the No. 1 user of organic cotton by volume, followed by C&A, Puma, and Nike. H&M's share of cotton coming from organic sources rose from 7.8 percent in 2012 to 10.8 percent last year, according to the retailer.
Textile Exchange's list is not complete. There are no numbers, and it includes only retailers that voluntarily submit data. This year 80 companies opted-in. Wal-Mart, the world's largest retailer, didn't participate. "They haven't in a number of years," noted LaRhea Pepper, managing director of Textile Exchange.
In terms of growth, Pepper said, "some of the companies are in the triple digits and some are in the double digits." A company called Stanley & Stella topped the 2013 list, followed by Target. H&M and C&A came in at eighth and ninth place for growth, respectively, followed by Inditex, the fast-fashion company behind retailer Zara.
Cotton is among the world's dirtiest crops, due to heavy use of insecticides. Consumer awareness is pushing companies to pursue cleaner options, with much demand driven by a desire for healthier baby and feminine hygiene products, says Barbara Haumann, senior editor at Organic Trade Association.
The U.S. market for organic cotton reached $960 million last year, up 16.2 percent from 2012, says Haumann. Growth has been steady since at least 2003, when the market for organic fibers was merely $85 million. That's considerable headway, but it amounts to a minuscule segment of America's total textile consumption. "It still represents less than 1 percent," says Haumann.
Neil Young presumably wasn't promoting fast-fashion stores such as H&M when he put up his organic cotton post, but he's ready to do his part. "I have taken steps to remove sales of non-organic t-shirts and other products that damage the Earth from my concerts and my web stores," he writes on his website. "I vow to speak up & do what I can to PROTECT EARTH."
Before it's here, it's on the Bloomberg Terminal.
LEARN MORE