NFL Commissioner Says He Knows Nothing About Cheerleader Pay
By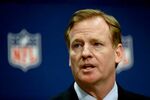 NFL Commissioner Roger Goodell shouldn't have to testify about how cheerleaders are paid, his attorneys argued in court filings on Tuesday.
"The request for a deposition of Commissioner Goodell is unwarranted and is, at best, a fishing expedition or, at worst, an improper ploy for media coverage," Goodell's lawyers wrote (PDF) in response to a subpoena. Drawing on cases involving the chief executive officers of AOL, Merck, and General Electric, they contend, "Because Plaintiff cannot show that Commissioner Goodell has unique or independent and necessary knowledge related to her claims, [which is] the requisite standard set forth by New York courts when a party seeks a deposition of a CEO, the Court should not allow Plaintiff to take his deposition and should quash the subpoena."
The plaintiff in question is Caitlin Ferrari, one of several ex-cheerleaders from five NFL teams who have filed lawsuits this year over alleged unpaid wages. As I reported on Tuesday, while Ferrari isn't currently suing the NFL itself, her attorney Christopher Marlborough has sent a subpoena seeking to depose Goodell. That's could drag the league deeper into the controversy over cheerleader pay, an issue it insists it has nothing to do with.
To justify the subpoena, Ferrari's attorney cites a 2009 "Radio Broadcast Rights Agreement" (PDF) between the Bills and Citadel Broadcasting in which Citadel agrees to have cheerleaders on the squad (the "Buffalo Jills") sign an attached agreement stating that they "will not receive payment for appearances at the Buffalo Bills football games." (The document was submitted by the Bills as evidence in the team's unsuccessful effort to get the case dismissed on the ground that the cheerleaders were independent contractors, not employees owed minimum wage.) Goodell's signature is on the document, under the word "APPROVES:".
In their filings on Tuesday, Goodell and his lawyers downplayed the significance of that signature. NFL Senior Counsel Rachel Margolies said (PDF) in an affidavit that the league weighed in only on the provisions in such agreements granting radio rights, not anything related to the Buffalo Jills. While Goodell's signature is on the deal, Margolies says he "is not involved in the process or procedure of approving radio broadcast rights agreements." Rather than Goodell signing them by hand, she says, "Goodell's signature is affixed to the agreement by stamp." That stamp is cited twice in Goodell's attorneys' brief.
In his sworn affidavit, Goodell proclaimed (PDF) his ignorance of the conditions under which Ferrari and her fellow Jills worked. "I have no knowledge," says Goodell, regarding the Jills' "selection, training, compensation and/or pay practices"; "the terms and conditions under which the Buffalo Jills provide their services, or the setting of those terms and conditions"; "the management of the Buffalo Jills"; how they "acquire any uniforms or equipment"; or "travel and lodging expenses of the Buffalo Jills."
Ferrari's lawsuit alleges (PDF) that she and other Jills were required to "work practices and games without compensation"; "bear the cost of many work-related expenses, including uniform expenses"; "provide free modeling services" for promotional items; and "purchase dozens of these non-refundable promotional items and sell them on their own time without just compensation."
Ferrari attorney Marlborough declined to comment on the newly filed documents Tuesday night. On Monday, he highlighted the contrast between the Jills' compensation, which he he said could be as low as $200 a year, and Goodell's 2012 income of $44.2 million. "It would take them 200,000 years to earn that," said Marlborough. "If he comes back and says, 'I'm too important' [for a deposition], that's what he's going to be looking at." The NFL declined to comment.
Before it's here, it's on the Bloomberg Terminal.
LEARN MORE