Megadeal Train Rolls On Without Son, Murdoch: Real M&A
Tara Lachapelle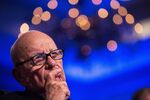 It's going to take more than two billionaires' second thoughts to slow down this year's megadeal boom.
Media mogul Rupert Murdoch withdrew his bid for Time Warner Inc. this week at the same time Japanese tycoon Masayoshi Son abandoned his plans to merge T-Mobile US Inc. with Sprint Corp. Their moves stripped about $100 billion from this year's deal roster and handed losses to traders who had speculated the transactions would get done. Even so, that's barely put a dent in merger volume, which is still up 61 percent from a year ago to almost $2 trillion, according to data compiled by Bloomberg.
With at least seven deals each valued at more than $20 billion in the works, the average acquisition size this year will be larger than any year since 1996, the data show. And that's not including ZF Friedrichshafen AG's talks to acquire TRW Automotive Holdings Corp. and Repsol SA's potential bid for Talisman Energy Inc. Both targets are valued at more than $10 billion.
"I don't see anything that's flashing even a yellow light for M&A," Tom Burnett, director of research at Wall Street Access Corp., which specializes in mergers and event-driven analysis, said in a phone interview. "You had these deals blow up, but they are individual situations and I don't think it casts a pall over the M&A trend. I don't think the game is over."
Busy Year
Accumulated cash and stock-price gains are giving corporations firepower for dealmaking. Combine that with slowing revenue and profit growth at companies from drugmakers to beer brewers, as well as low borrowing rates, and it's a recipe for a continued acquisition spree.
There have been $1.8 trillion of mergers and acquisitions announced globally this year, and about two-thirds of those more than 12,000 deals have already closed. That puts 2014 on track to be the busiest period since at least 2007, data compiled by Bloomberg show.
Even the deals that have unraveled may return. Dish Network Corp. Chairman Charlie Ergen said Sprint's decision to drop its T-Mobile bid has opened up more options for his satellite-TV carrier as he looks for ways to expand into the wireless business and make use of Dish's $26 billion portfolio of wireless spectrum. T-Mobile also has a proposed offer from France's Iliad SA.
T-Mobile shares fell 8.4 percent yesterday. They dropped
3.9 percent to $29.86 today, while Sprint's declined 0.3 percent to $5.88. Time Warner fell 2.9 percent, and Fox rallied 5 percent.
M&A Runway
"The market is maybe focusing on the here and now, and not focusing on what Ergen has been doing and what he needs to do in light of the fact that there could be some deal," Sachin Shah, a special situations and merger arbitrage strategist at Albert Fried & Co., said in a phone interview. "This is the runway he's been waiting for."
Analysts speculated last week that Time Warner may lure other suitors such as Verizon Communications Inc. or pursue a merger with CBS Corp. Even if Murdoch were unable to secure a deal, it's likely Time Warner will get sold to someone else within the next two to three years, Laura Martin, a media analyst at Needham & Co., said in a phone interview last week.
Time Warner Chief Executive Officer Jeff Bewkes would be more willing to sell the company when potential suitors Comcast Corp., AT&T Inc. and Verizon -- which are busy with other deals -- have digested those transactions and can actively bid on Time Warner, a person with knowledge of the matter, who asked not to be identified discussing private information, said last month.
Deal Need
Pfizer Inc. shelved plans in May to buy AstraZeneca Plc for about $117 billion, which would be a record-setting transaction for the drug industry. It still has a chance to clinch a big deal by instead pursuing a takeover of GlaxoSmithKline Plc or Actavis Plc, analysts said this week.
Pfizer is among the major companies that are turning to acquisitions to give revenue a needed boost. Without a deal, Pfizer will have almost no sales growth over the next decade, analysts' estimates compiled by Bloomberg show. CEO Ian Read last week signaled he's willing to look at other large takeover opportunities.
The megadeals "are driven by the companies who have to do something," Burnett of Wall Street Access said. While there probably aren't major transactions left to do in the airline and telecommunications industries, "there's still a lot to do in energy, finance, health care and technology. I think we're going to see a lot more M&A."
Before it's here, it's on the Bloomberg Terminal.
LEARN MORE