McDonald's Drive-Through Speed Test: Food in 60 Seconds or Less
By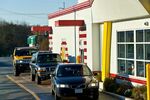 McDonald's sometimes asks drive-through customers to pull over and wait in designated "drive-thru" parking spots—a blatant oxymoron—for orders that will take a while. It's the kind of scene that makes fast food seem unbearably slow, and the sort of disappointment that irks customers.
Correction* McDonald's drive thru is so slow, they have TWO "can you please pull up" spots pic.twitter.com/QXxJlYXAtE

— Malcolm Monreau Dunn (@MasterchefDunn) June 3, 2014
The burger chain, which has been talking for some time about improving speed and service at its restaurants, has already trimmed down the menu and added a second pickup window to its drive-through process. Now the 800 McDonald's locations in Florida are putting their speed to the test: Drive-through customers will be guaranteed their order within 60 seconds or get a free sandwich on a future visit.
There are, of course, an array of conditions. The experimental program is in effect only on weekdays in September from noon to 1 p.m. The 1-minute countdown doesn't start until customers finish at the payment window. At that point, the driver receives an hourglass-shaped sand timer to monitor the minute limit. It's not unfathomable that the order could be nearly ready under these constraints.
The challenge for McDonald's will be reversing an increase in drive-through waits over the years. The company's average drive-through service time last year, 3 minutes and 15 seconds, was the slowest in the 15-year history of QSR Magazine's Drive-Thru Study, which includes the time spent ordering and paying.
"The 60-second guarantee promotion supports our priority of providing an enjoyable lunch experience for customers in Florida," said McDonald's spokeswoman Lisa McComb. She also warned customers outside Florida that the 1-minute program might never expand beyond the Sunshine State. "It's not a test," she said. "There's nothing in the works at the national level at this time."
Some cynics might argue that this drive-through program is the only sure-fire way to get McDonald's customers excited about a long wait. And any customer getting a free sandwich is likely to pay for a drink and fries to complete the order. Still, in the long run, the experiment will add pressure on McDonald's restaurants to find ways to shave off seconds when getting burgers from the grill to the customer, which might prove useful knowledge anywhere.
Before it's here, it's on the Bloomberg Terminal.
LEARN MORE