London Mayor Johnson to Run for U.K. Parliament in 2015
Svenja O'Donnell and Thomas Penny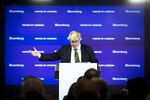 London Mayor Boris Johnson said he plans to run for a seat in Parliament for Britain's Conservative Party in next year's election, stoking speculation he wants to succeed David Cameron as prime minister.
Johnson, speaking at an event at Bloomberg LP's European headquarters in London today, said Cameron had urged him to run and that he would still serve out his term as mayor, which ends in 2016.
"We've danced around it for an awfully long time now," Johnson said. "I haven't got any particular seat lined up but I do think in all probability I will try to find somewhere to stand in 2015."
Johnson, who's now the favorite with some bookmakers to succeed Cameron as Tory leader, made the announcement in response to a question after delivering a speech in which he said the U.K. has nothing to fear from leaving the European Union if the 28-nation bloc fails to reform. Cameron has pledged a referendum on EU membership by 2017 and said he'll campaign to stay in the bloc.
"Presumably the only reason he's planning to get into Parliament is because he's thinking of leading the party," Tim Bale, professor of politics at Queen Mary University in London, said in a telephone interview. "It suggests that he, like anyone else, can read the opinion polls and see that things are a bit touch-and-go, and there may well be a chance for him to stand for the Tory leadership."
Olympics Games
Johnson's vote-winning capacity, at least in London, was illustrated in 2012 when he retained his job as mayor in the face of a national trend that saw gains for the opposition Labour Party. The city's successful staging of the Olympic Games later that year heightened his profile further.
The Conservatives had 33 percent support in the latest regular YouGov Plc poll, compared with 38 percent for Labour. The anti-EU U.K. Independence Party, which has no seats in Parliament, had 12 percent support. YouGov questioned 1,977 respondents Aug. 4 and yesterday. It didn't specify a margin of error.
Johnson's position on the EU is likely to appeal to the euro-skeptic ranks of the Tory Party, who have criticized the prime minister for losing supporters to UKIP. Cameron used a speech at Bloomberg last year to say that he would hold an EU referendum if he is re-elected in 2015, after rebellion in his own party forced him to take a more hostile stance on Europe.
Odds Cut
As the prime minister praised Johnson's decision to stand, bookmakers Ladbrokes Plc and William Hill Plc installed Johnson as favorite to be the next Tory leader over Home Secretary Theresa May, cutting his odds.
"Great news that Boris plans to stand at next year's general election," Cameron, who's on holiday in Portugal, said in a posting on Twitter. "I've always said I want my star players on the pitch."
Asked by reporters whether he was planning to run for the Tory leadership, Johnson said "there is no vacancy for that job." He said that Cameron "is doing a brilliant job and is increasingly likely to be re-elected."
Ladbrokes suspended betting on which seat Johnson will contest. The favorite had been Uxbridge in northwest London, where the Tory incumbent, John Randall, will retire in 2015. Other possibilities include Hertsmere, to the northwest of the capital, South Cambridgeshire in eastern England, and Kensington, one of the safest Tory-held seats in the country, currently held by former Foreign Secretary Malcolm Rifkind. Johnson was formerly member of Parliament for Henley, west of London.
'Pussy-Footing Around'
He told Bloomberg Television in an interview there was no connection between his speech on Europe and his decision to announce he'd run for a seat in the House of Commons.
"It so happened that I'm getting totally fed up by the endless pussy-footing around that's been going on on this subject" of his political future, he said.
"As Londoners know to their cost, beneath the bluster Boris Johnson is wedded to the same Tory policies as his Government -- the only thing that separates him from David Cameron is his view on who he wants to head their party," Labour's spokesman on London, Sadiq Khan, said in a statement. "Today has also shown Londoners that, when they need a mayor prepared to address the big challenges facing their city, Boris Johnson's priority is succeeding David Cameron rather than serving their interests."
Before it's here, it's on the Bloomberg Terminal.
LEARN MORE