Dude, Where's My Strategic Partnership? Inside GoPro and Foxconn's Gnarly Culture Clash
by and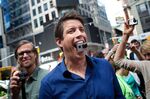 Two years ago, an unlikely bromance was brewing between GoPro's Nick Woodman and Foxconn's Terry Gou. The chief executive officers lavished praise on one another after signing a deal for Foxconn Technology Group, the Taiwan-based manufacturer of the iPhone, Xbox and Kindle, to invest $200 million in the video-camera company beloved by extreme-sports enthusiasts. Gou was set to join GoPro's board of directors, and his company teased future strategic partnerships.
The investment made Woodman, an avid surfer who grew up in California, a billionaire on paper, but the rest hasn't panned out. Gou did not join the board, which would have been his only board membership outside of the companies he's founded, and Foxconn, the biggest contract manufacturer on the planet, hasn't built a single camera for GoPro.
"To date, Foxconn has not won any of our manufacturing business," Woodman said in a phone interview on Aug. 1. "They remain in the hunt, as do other contract manufacturers."
GoPro first appeared on Gou's radar after seeing the durable, waterproof cameras being used by divers during a scuba trip, and he became enamored with it, said a person familiar with the events who asked not to be named because the details are private. Besides teaming up with a fast-growing hardware company that could fuel Gou's manufacturing business, the Taiwanese billionaire hoped to tap GoPro's marketing expertise to help Foxconn make the most effective use of its broad technology assets, ranging from its stockpile of materials to new power-management processes, the person said.
Michael Marks, whose venture firm Riverwood Capital invested in GoPro, introduced the two entrepreneurs, Woodman said in a Bloomberg TV interview in October. At the time, Woodman still described the relationship as "fantastic."
"When Terry was out visiting his partner companies in California, he stopped by GoPro," Woodman said in a Bloomberg TV interview in October. "We hit it off and realized that we have a shared vision of the future. The rest is history. It's a fantastic opportunity for GoPro to partner, not only with Foxconn, who can help us engineer the future, but also Terry himself."
The enthusiasm soon faded, according to two people familiar with the relationship. Gou is a notorious workaholic, whose pace hasn't slowed much since 1974 when he set up shop in a shack located in a section of Taipei known as Dirt City. Woodman is known for his laid-back attitude and liberal use of surfer-speak. (Actual quote: "Hey, look, dude, he's wearing a GoPro.") Gou's hard-driving style contrasted with Woodman's more easy-going approach, and the Foxconn CEO became convinced he had overpaid for his shares, the people familiar with the situation said.
"Foxconn continues to retain interest in GoPro," Foxconn said in an e-mailed statement. "We are committed to continuing to work with GoPro to realize the shared vision of giving consumers a rich viewing experience through advanced hardware, software and content development tools."
Woodman has found that other contract manufacturers, such as Taiwan's Chicony Electronics, are satisfying GoPro's needs just fine. He said the company, which raised $427 million in an initial public offering in June, can now afford to develop its own technology, with 300 people dedicated to research and development. Before 2011, GoPro only had three people doing product development, Woodman said by phone.
"We relied on the engineering departments of our contract manufacturers for innovation — at their pace of innovation," he said. But now, "we've got a ton of brilliant products in the pipeline, and we've developed a ton of brilliant intellectual property."
Marks, the GoPro investor and director, wrote in an e-mailed statement that Gou is "very happy with his investment, as well as with the leadership and direction of GoPro." Woodman insists that relations between the companies remain cordial, and you'd have a tough time arguing that GoPro isn't delivering shareholder value. Despite posting a wider quarterly loss last week, the stock is up 61 percent since it went public.
"We still have a great relationship," Woodman said. "My sense is they are happy with the partnership. Terry has obviously done quite well on his GoPro investment."
Before it's here, it's on the Bloomberg Terminal.
LEARN MORE