Deutsche Bank Said to Have Joined Talks With Argentina Holdouts
Camila Russo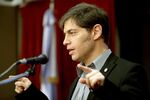 Deutsche Bank AG joined JPMorgan Chase & Co., Citigroup Inc., and HSBC Holdings Plc in talks with Argentina's holdout creditors to seek an agreement that would allow the country to resume paying its bonds, according to a person briefed on the meetings.
Deutsche Bank joined an Aug. 1 meeting between the banks and hedge funds including Elliott Management Corp. that won a U.S. court order for full repayment on debt from Argentina's 2001 default, said the person, who asked not to be identified because the talks are private. Banks are proposing to buy at least a portion of the defaulted bonds, he said.
A U.S. court ruling requires Argentina to pay the holdout creditors about $1.5 billion or reach a settlement before it can make interest payments on bonds issued during restructurings in 2005 and 2010. The country missed a July 30 deadline to make an interest payment on its notes due in 2033, a lapse that prompted Standard & Poor's to rule the country is in default on all $29 billion of its foreign bonds.
Argentina's Economy Minister Axel Kicillof has said the government wouldn't oppose a third-party solution to its dispute with a group of hedge funds.
Talks between the Argentine government and the holdout creditors have reached a standstill. Negotiations between local banks and holdout creditors also fell through, two weeks ago, according to a bank official who asked not to be identified because he wasn't authorized to speak about the matter.
Elliott's NML unit declined to comment. Lyssette Bravo, a spokeswoman for HSBC in Mexico, declined to comment. Danielle Romero-Apsilos, a Citigroup spokeswoman, declined to comment, as did Ari Cohen, a spokesman for Deutsche Bank in New York, and Brian Marchiony, a JPMorgan spokesman.
Before it's here, it's on the Bloomberg Terminal.
LEARN MORE