business
Why the Public Loves Apple but Not Tony Blair
By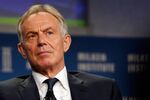 Former U.K. Prime Minister Tony Blair says he doesn't benefit financially from his political connections, but Brits are skeptical. A new study may help explain why: People don't see how making money can be balanced with doing good. More generally, they just don't like to hear about it when an enterprise is profitable.
Blair's charity, the Africa Global Initiative, works with African governments that have ties to the former prime minister's consulting clients. British newspapers have accused Blair of leveraging his political ties to leaders in Africa and the Middle East to enrich himself, the New York Times reported today. Many in the U.K. find it difficult to reconcile Blair's simultaneous roles as a savvy international businessman and a "globe-trotting do-gooder," according to the Times.
That jibes with research findings by professors at Dartmouth's Tuck School of Business, the Yale School of Management, and the University of Pennsylvania who wrote about perceptions of profit-making on this side of the pond. In a paper under review at the Journal of Marketing Research, the researchers wrote that Americans tend to see one person's monetary gain as another's loss and don't think money has much to do with social good. That mindset may make people squeamish at the idea of Blair making money in the same places his philanthropies operate. It also could explain what makes Apple so well-liked.
After all, this is a $570 billion company that charges up to $850 for a telephone. Yet Apple consistently tops consumer satisfaction surveys. The study suggests that people warm to the make-things-beautiful ethos of the late Steve Jobs, and the good vibes that surround Apple products help consumers ignore the billions that come with it. 
So when selling people on products, or brands, or even ideas, it's best to downplay all the money you'll make in the process, the authors wrote.
"Companies can benefit a lot by signaling they don't care about profit," Tuck Professor and co-author Amit Bhattacharjee told the school's website.
"Perhaps the guy who was best at this was Steve Jobs. Apple could easily be hated—it's one of the most profitable companies in the world—but it has benefited enormously from the mythos that Jobs didn't care about profit and just wanted to create something beautiful," he added.
The research proves the enduring wisdom of another departed icon, the Notorious B.I.G., who had it right 16 years before the research world caught up: "Mo money, mo problems."
Before it's here, it's on the Bloomberg Terminal.
LEARN MORE