Rental-Car Chains Bask in the Power of Higher Prices
By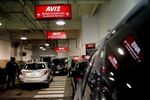 These are blessed days in the land of rental cars. Despite a wave of auto recalls this year that have required some costly shuffling in their fleets, the three main U.S. auto rental companies—Enterprise, Avis Budget Group and Hertz Global Holdings—are enjoying robust pricing thanks to industry consolidation.
"I'm probably more enthusiastic about our business than I've ever been," Ronald Nelson, Avis Budget's chief executive, said Tuesday on a conference call with analysts. "And one of the reasons is the meaningful change in pricing that we've now seen play out over the past six quarters."
The merged chains have been shrinking their fleets, which has helped them increase prices. The three also are reducing the amount of inventory available on opaque pricing sites such as Hotwire and Priceline.com, which offer consumers deep discounts without revealing the exact company that's renting the car until a transaction is completed. New revenue management software also helps the large chains forecast supply and demand better and adjust prices more rapidly.
Consolidation has improved the financial side of the business, at least for investors. Avis Budget said Tuesday that its sales increased 10 percent in the second quarter, with prices in North America 5 percent higher than in the same period last year. The company also raised its full-year sales and income targets. All this is great news for shareholders. Avis Budget shares have gained 50 percent this year. Hertz has declined 3 percent in 2014 as it sorts out accounting problems that have marred three years of financial reports. Still, at its core business, Hertz is seeing the same trend: stronger pricing, especially at airports where legions of business travelers generally pay top dollar.
Regulators had some indication that higher prices for consumers could be coming. The Federal Trade Commission completed its review of Hertz's $2.3 billion acquisition of Dollar Thrifty in July 2013. That was the same month Avis Budget spent $50 million for Payless Car Rental to help bolster its offerings in the "deep-value" segment of the rental market, where Hertz's Advantage Rent A Car was a leader. The Payless deal came mere months after Avis acquired Zipcar for $500 million, further diversifying into the car-sharing business. In 2011, Avis Budget bought Avis Europe for $1 billion.
During the FTC's eight-month review of the Dollar Thrifty sale, the agency noted that the three biggest companies would control roughly 98 percent of the airport rental market. One supposed remedy was to require Hertz to sell Advantage, which it did, to protect competition at 72 airports. Four months after the FTC approved Dollar Thrifty's sale, Advantage filed for bankruptcy.
Despite the FTC's efforts, higher pricing has become a critical part of the business for the trio that now control the auto-rental business.
Before it's here, it's on the Bloomberg Terminal.
LEARN MORE