Apollo's Harris Says Bring It On to Rising Interest Rates
Devin Banerjee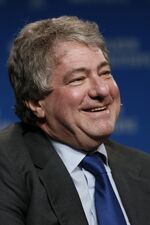 Apollo Global Management LLC, an investment firm that oversees two times the dollar amount in credit assets than in private-equity holdings, isn't worried about rising interest rates.
"We welcome a rising interest rate environment," Josh Harris, an Apollo co-founder, said on a conference call today with investors and analysts. "Our funds manage very little in the way of rate-sensitive assets. We have an intentionally large exposure to floating-rate assets."
Apollo has expanded its credit business to oversee $105.7 billion from $18 billion in 2009, and Harris said it remains the fastest-growing unit at the 24-year-old firm. Chief Executive Officer Leon Black said in May that he sees no reason the group can't grow to be "a large multiple" of size bigger as it increases its "Chinese menu" of investments with different yield and liquidity characteristics.
Expectations have heightened that the Federal Reserve, which has kept the benchmark rate from zero to 0.25 percent since 2008, will be forced to raise it sooner than expected as the U.S. economy improves. Data last week showed gross domestic product expanded at a 4 percent annual pace in the second quarter and employers added more than 200,000 jobs for a sixth straight month in July. A majority of 56 economists surveyed last month by Bloomberg News said the central bank will end its bond-buying program at its October meeting.
Interest rates affect fixed-income investments, including some types of credit, because a higher rate results in a lower value for existing securities. The result is lessened when the investment has a floating rate, which adjusts as rates in the market rise or fall.
Credit Dislocation
"If rates were to rise at a quicker pace than expected, we believe any resulting dislocation would further benefit our returns, as we've historically outperformed in those scenarios," Harris said. "Any dislocation would also likely result in more rapid deployment of our credit and private-equity funds."
Apollo, which managed $167.5 billion in credit, buyout holdings and real estate as of June 30, said second-quarter profit fell 5.7 percent as it earned less money from selling investments. Economic net income after taxes, a measure of earnings excluding some compensation costs, decreased to $207.5 million, or 52 cents a share, from $220.1 million, or 56 cents, a year earlier, the New York-based firm said in a statement today.
Analysts had expected per-share earnings of 66 cents, according to the average of 16 estimates in a Bloomberg survey.
'Monetizing' Portfolio
Apollo in the past two years has been one of the most active buyout firms in exiting investments, taking advantage of rising markets to sell holdings and take companies public. The firm in the second quarter sold shares of grocery-store chain Sprouts Farmers Market Inc., industrial-components maker Rexnord Corp. and Berry Plastics Group Inc. Distributable earnings, a measure of cash profit earned mostly from exits, fell to $227 million from $604 million in the same period last year.
"We remain active in monetizing our portfolio," Black said on today's call.
The company fell 2.5 percent to $25.25 at the close of trading in New York, extending its decline this year to 20 percent. Apollo sold shares to the public in March 2011 for $19 apiece.
In addition to credit holdings, Apollo manages $51.6 billion in private-equity assets and $9.1 billion in real estate. While private-equity earnings drove the decline in economic net income, earnings in the credit business more than doubled from the second quarter last year, and the real estate unit swung to a profit from a loss a year earlier.
'Solid' Fundamentals
"While the stock may be weak off the headline numbers, key underlying fundamentals remain solid with strong underlying investment performance," Jason Weyeneth, an analyst at Sterne Agee & Leach Inc. in New York, said today.
Private-equity firms pool money from investors including pension plans and endowments with a mandate to buy companies within about five to six years, then sell them and return the funds with a profit in a cycle lasting about 10 years. The firms, which use debt to finance the deals and amplify returns, typically charge an annual management fee equal to 1 percent to 2 percent of committed funds and keep 20 percent of profit from investments as a carried interest.
Before it's here, it's on the Bloomberg Terminal.
LEARN MORE