Princeton Tops Ivy Football Media Poll for First Time Since 1992
Eben Novy-Williams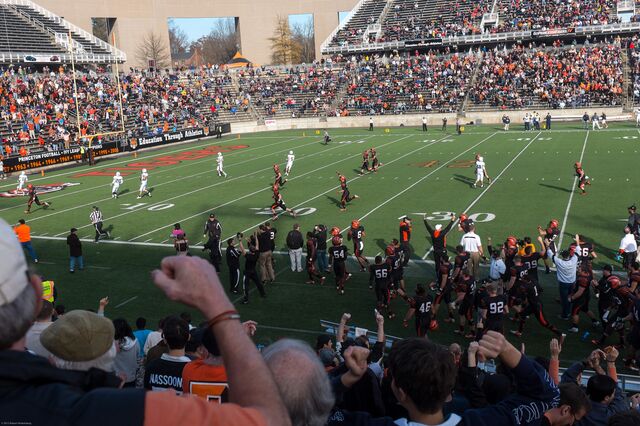 Princeton University is the preseason favorite to win the Ivy League football title, one year after a loss in the season's final game kept the Tigers from their first outright championship in 18 years.
The New Jersey school received nine of the 17 first-place votes and 128 points in the poll of media representatives who regularly cover the eight-team conference. Harvard University, which shared last year's title with the Tigers, was second with 127 points and eight first-place votes.
It's the first time since 1992 that Princeton was chosen as the league's preseason favorite. It's also the narrowest margin between first and second place selections since 2008, when Harvard and Yale University tied atop the poll.
Princeton opened last year's Ivy play with six consecutive wins, breaking the conference scoring record by using an offense that sometimes featured three quarterbacks on the field at once. Needing a win over Dartmouth College in the season's final game to secure an undefeated conference season and their first outright title since 1995, the Tigers fell 28-24.
Princeton was led last year by quarterback Quinn Epperly, the league's offensive Player of the Year. Epperly passed for 25 scores and ran for another 18 last year, making him the first player in Ivy League history to account for 40 touchdowns in a season.
Harvard defensive end Zach Hodges was last season's defensive Player of Year, anchoring the only defense to allow fewer than 100 yards rushing per game in 2013. The Cambridge, Massachusetts, school has finished first or second in the league in 12 of the past 13 years.
Dartmouth was picked to finish third, the school's highest preseason selection since 1997. Winners of a league-record 17 Ivy titles, the Big Green last won the conference championship in 1996.
Penn finished fourth in voting, followed by Yale, Brown, Cornell and Columbia. This will be the final season for Quakers coach Al Bagnoli, who in 22 years at Penn has won nine outright titles and oversaw six undefeated Ivy seasons.
2014 Ivy League Football Preseason Media Poll (First-place Votes
in Parentheses)

Rank School          Points
1.   Princeton (9)    128
2.   Harvard (8)      127
3.   Dartmouth        91
4.   Penn             79
5.   Yale             68
6.   Brown            65
7.   Cornell          34
8.   Columbia         20
Before it's here, it's on the Bloomberg Terminal.
LEARN MORE