Beyoncé's Permanent Stealth Campaign for Flawless Commercial Success
By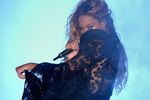 Over the weekend, Beyoncé snuck out a remix of her song Flawless, featuring a verse by rapper Nicki Minaj. Nobody saw it coming. Though Billboard reported that several hip-hop blogs "sensed a collaboration" between the two celebrities, "it was mostly kept under wraps."
Beyoncé's stealth release is reminiscent of a method she perfected in December, when her self-titled album (on which Flawless first appeared) turned up on iTunes without any advance promotion. At the time, the singer complained that she was "bored" with putting out her music the old way, and that's probably true. But her iTunes surprise was also a shrewd way to avoid leaks and attract attention. It worked. According to Nielsen SoundScan, Beyoncé sold 702,000 copies in the first six months of this year, making it 2014′s second-biggest seller. Only the soundtrack of the Disney movie Frozen did better.
Surely, Beyoncé would like to sell a few more copies of her record, and this is not the worst way to do that. She's also on tour with her husband, Jay-Z, through September. Causing more commotion by putting out an unannounced remix of one of the album's most popular tracks can only help sell more concert tickets, too. Minaj, meanwhile, has a new song of her own—Anaconda—to promote. No wonder she kept her mouth shut, too. They have subsequently inspired another Flawless remix, this one by Lil' Kim, who felt the need to praise Beyoncé and insult Minaj in her own characteristically crude way. The hip-hop world loves this kind of thing; the three women can only benefit from the rhetorical dust-up.
Beyoncé's clandestine record releases are different from her On the Run tour with Jay-Z. The couple promoted it in a more traditional manner, releasing in advance a perfunctory video portraying themselves as a modern-day Bonnie and Clyde. That worked, too. Billboard reports that Mr. and Mrs. Carter since have sold $100 million worth of tickets this summer. Beyoncé's under-the-radar record releases undoubtedly helped bring more people to arena shows, too.
It used to be that musicians went on tour to promote albums. Then album sales tanked. Now they put out records to support their tours. Beyoncé is one of the few artists left who can make enormous sums doing both. In short, as she herself has noted, she can have it all.