Michael Phelps Sheds Speedo to Don Aqua Sphere Swimsuit
Mason Levinson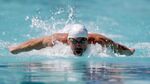 Michael Phelps, the most decorated Olympian, ditched his Speedos and signed a new endorsement deal with swimsuit maker Aqua Sphere.
Phelps, who came out of retirement in April after winning a record 18 Olympic gold medals, has worn Warnaco Group Ltd.'s Speedo swimsuits since turning professional at the age of 16.
Aqua Sphere is a producer of swimwear and accessories for triathletes and fitness swimmers that has not made racing suits before. The company, which began in Genoa, Italy, in 1998, will work with Phelps and his coach, Bob Bowman, to develop products that are accessible to a broad range of swimmers, from professional to recreational, it said in a news release.
"There is an opportunity to help make the sport more inviting to others by recognizing that everyone begins at different levels, requires assistance matching their skills with products, and lacks the appropriate context in order to maximize their swimming experience," Phelps said in a statement.
Contract terms weren't disclosed. Phelps's deal with Speedo expired at the end of 2013. His contract with Vista, California-based Aqua Sphere runs through 2022, according to the Sports Business Journal.
Phelps won six gold medals at the Athens Games in 2004, broke Mark Spitz's record for golds at a single Olympics with eight in Beijing in 2008 and added four more in London in 2012.
By matching Spitz's record of seven gold medals in Beijing, he was awarded a $1 million bonus from Speedo.
Having won a record 22 Olympic medals, he retired at the age of 27. He returned more than 18 months later, saying he changed his mind because he missed the sport.
The 29-year-old is signed up to compete in four events at the U.S. national championships this week in Irvine, California. The swim meet will determine U.S. roster sports for the Aug. 21-25 Pan Pacific Championships in Australia, which then help determine the U.S. team for next year's world championships in Kazan, Russia.
Phelps has said he isn't sure whether he wants to swim at the 2016 Olympics in Rio.
Before it's here, it's on the Bloomberg Terminal.
LEARN MORE