This Is the Unauthorized Letter Passed to Elite MBAs for Decades
By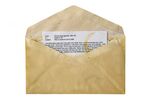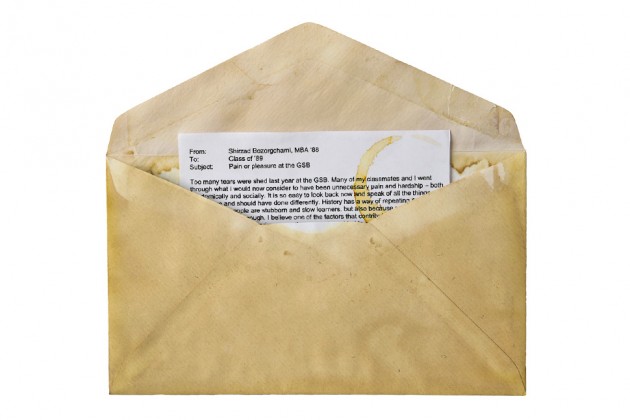 At some point in their first semester, some members of the next class of graduate business school students will get a surprise note with a long pedigree. The letter is the work of an MBA they've probably never met, who wrote it when he was a student and George Michael had just put out the biggest hit of the year.
Stanford Graduate School of Business alum Shirzad Bozorgchami penned the note when he was a second-year GSB student in the late 1980s, casting it as a survival guide for first-year students, rendered by an upperclassman with some regrets. The screed has been passed down through decades of business school students from Stanford and beyond. First-year students at the GSB and the University of Pennsylvania's Wharton School still get the letter—often courtesy of upperclassmen—via in-boxes early in their B-school career.
The missive serves as a manual for getting the most out of business school without being too much of a nerd about it. The note suggests that students live it up for two years, instead of succumbing to a daily drumbeat of anxiety.
"There just isn't enough time to get all the work done. But no one said you should!" Bozorgchami wrote. "You don't need to be in a study group, you don't need to turn in every homework, you don't have to appear bubbly and social all the time, you don't have to interview with investment banks and consultants, you don't need to be conservative and safe in class discussions."
The letter, a grainy, crooked reproduction, isn't dated but addresses GSB's class of 1989. A 2007 time stamp shows that it was sent as a fax at least once; someone must have eventually thought to scan it.
The note became legendary enough to merit an epilogue by the author a half-dozen years later. "I am deeply moved that this letter has become a traditional gift from the 2nd year class to the 1st years in the weekend before midterms," reads an appended note from Bozorgchami dated 1994. Indeed, students usually receive the letter during their first exam period.
The author, who is now known as Shirzad Chamine, has made a career out of the lessons contained in the letter. In his New York Times bestselling book, Positive Intelligence (Greenleaf Book Group Press, 2012), Chamine said that a turning point in his time at GSB came amid a classroom exercise in which students critiqued each other's interpersonal skills. Over and over, Chamine was told that he was too judgmental.
The criticism took Chamine by surprise and prompted him to think hard about how not to turn self-doubt into hostility toward others. The thought experiment filled five single-spaced pages, which Chamine photocopied and delivered to the mailboxes of 320 first year students. The reaction, Chamine said in his book, was startling. "The letter struck a chord with so many people that my inbox was inundated with thank-you letters from people relieved that their suffering and self-judgments were unjustified," Chamine wrote. The GSB's website confirms that the text "is still in circulation among students."
The gist of the message is that doing well at B-School is not hard. Moving from the 11th to the 10th percentile is very hard, however—and probably not worth your time.
"Take the fullest advantage of the GSB's grade policy," Chamine said in the original letter, adding that to get a passing grade, "you often only need to know about half the material covered."
"The cost of aiming at Hs far outweighs the benefits," said Chamine in the letter, referring to honors—Stanford Business School's highest grade—awarded to members of the class's top echelon. "Neither your summer nor your first permanent employer will have any idea what your grades were."
Chamine's tips also include advising students to skim articles, stay away from study groups in which they're the dumbest member, and to feel reasonably cool if they are "comfortable with 5 or 6 people."
The upside to the growing pains that come with adjusting to B-school, per Chamine, is that afterward, the rest of the world seems an easier place. "The real world[,] often infested with mediocrity, will allow you to shine once again," the letter read, "it was worth all the pain, you may think. But remember, it can be as much pain and joy as you allow it to be." Kind of like the setup in Fifty Shades of Grey.
To incorporate all this MBA wisdom for yourself, click the image below.