Government Transparency Website Missed $619 Billion in Spending
By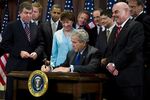 In 2006, then-Senator Barack Obama teamed up with his Oklahoma Republican colleague Tom Coburn to help pass the Federal Funding Accountability and Transparency Act. It was signed into law by President George W. Bush, who hailed it as a bipartisan accomplishment that "will allow Americans to log onto the Internet just to see how your money is being spent." Running for president the next year, Obama declared, "This historic law will lift the veil of secrecy in Washington and ensure that our government is transparent and accountable to the American people."
Now the Government Accountability Office has released a report (PDF) assessing how well the website is holding up to that promise. The answer? Not very well.
While agencies reported data on government contracts, the GAO found, they didn't do so for assistance awards, like loans or grants, adding up to about $619 billion for fiscal 2012. And in a sample of 385 awards it reviewed, the GAO was only able to confirm that 4 percent had fully complete and accurate information entered for every one of the 21 pieces of data that are supposed to be documented about it—a list that includes entries like "principal place of performance congressional district."
The GAO identified several culprits for the incomplete data, including technical issues with the website, a lack of guidance from the Office of Management and Budget on what information agencies were required to report, and insufficient oversight. Among the examples of oversight issues: The White House's Office of National Drug Control Policy didn't report several awards it made, and told the GAO that the Department of Health and Human Services was supposed to take care of that reporting instead; HHS said that wasn't true.
The report recommends that the OMB—in collaboration with the Treasury Department, which is taking over responsibility for the website—issue clearer guidance and stepped-up oversight for agencies. Those recommendations echo past advice from the GAO, as well as provisions of the Digital Accountability and Transparency Act, which this year also passed by unanimous consent in the Senate and voice vote in the House and was signed by Obama in May. In an e-mail, OMB spokesman Jamal Brown said the agency "is committed to federal spending transparency and working with agencies to improve the completeness and accuracy of data submissions to USAspending.gov. Many of the GAO's recommendations are consistent with actions outlined in the DATA Act, which we are working with agencies to implement."
Coburn was quick to pounce on the new report—and to use its findings to attack his co-sponsor for the apparent shortcomings in the implementation of his own act. "It is disappointing that the federal bureaucracy is so vast and unaccountable that the Administration cannot enact the president's signature accomplishment as a senator requiring the government to disclose how and where it spends money," Coburn said in a press release.
Before it's here, it's on the Bloomberg Terminal.
LEARN MORE