Barclays to Keep Billions From Lehman, Appeals Court Says
Dawn McCarty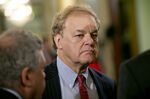 Barclays Plc can keep about $6 billion of assets related to its 2008 purchase of brokerage operations from Lehman Brothers Holdings Inc., an appeals court ruled, as the fallout from the biggest U.S. bankruptcy continued almost six years later.
The transfer of the brokerage's margin assets was included in the purchase agreement and confirmed in a clarification letter to the sale contract, the U.S. Court of Appeals in New York said today. The appeals court upheld a lower court, which in turn had partly reversed U.S. Bankruptcy Judge James Peck.
Peck ordered Barclays in 2011 to return $2 billion in margin assets to James Giddens, the Lehman brokerage trustee. At the same time, he ordered Giddens to give Barclays at least $1.1 billion, and possibly another $769 million. Each party appealed.
The next year, U.S. District Judge Katherine Forrest in Manhattan told the brokerage to pay London-based Barclays, saying the final sale documents showed the parties' true intent. She reversed the bankruptcy court ruling that said Barclays wasn't entitled to margin assets used to support a trading operation bought from Lehman.
Giddens, who appealed Forrest's ruling, originally demanded $7 billion from Barclays, saying he hadn't read last-minute changes to the contract in the September 2008 chaos after the Lehman parent sought court protection.
"The appeals court decision does not impact distributions already completed, underway and planned for," Giddens said today in a statement. "Our focus remains on winding down the estate." Giddens said he has made more than $105 billion in distributions to customers.
Mark Lane, a spokesman for Barclays, said he had no immediate comment on the ruling.
The Lehman brokerage went into liquidation in September 2008 separately from its parent, Lehman Brothers Holdings Inc.
The appeals case is Giddens v. Barclays Capital Inc., 12-2322, U.S. Court of Appeals for the Second Circuit.
Before it's here, it's on the Bloomberg Terminal.
LEARN MORE