Apple, Samsung Agree to End Patent Suits Outside U.S.
Adam Satariano and Joel Rosenblatt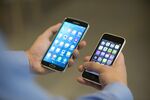 Apple Inc. and Samsung Electronics Co. are starting to wind down their global patent battle.
The companies said in a joint statement today that they have agreed to drop all suits against each other in countries outside the U.S. Claims are being abandoned in Australia, Japan, South Korea, Germany, Netherlands, the U.K., France and Italy.
The agreement shows Apple and Samsung may be nearing a conclusion to what has been a drawn-out and occasionally nasty worldwide patent fight, which has sprouted alongside the booming market for touch-screen smartphones. Apple has accused Samsung of copying its iPhone designs, while Samsung has countered that Apple is using pieces of its wireless-transmission technology without permission. Neither side won an overarching decision harming the other's sales, and judges repeatedly urged the companies to settle rather than play out their dispute in court.
There had already been signs of de-escalation prior to today's announcement. Apple and Samsung agreed in June to drop their appeals of a patent-infringement case at the U.S. International Trade Commission that resulted in an import ban on some older Samsung phones. Apple and Google Inc., which makes the Android mobile operating system that Samsung uses in many of its handsets, also announced a deal in May to drop lawsuits against one another related to Motorola Mobility.
Still, they said in the statement that they aren't ending the legal battles completely, nor have they reached any cross-licensing agreement. Samsung shares fell in Seoul.
U.S. Cases
"Apple and Samsung have agreed to drop all litigation between the two companies outside the United States," the companies said in the statement. "This agreement does not involve any licensing arrangements, and the companies are continuing to pursue the existing cases in U.S. courts."
Michael Risch, a law professor at Villanova University in Pennsylvania, said in an e-mail that the deal shows how Apple and Samsung see their "mixed worldwide results as not worth the effort." Yet he cautioned that since there is no cross-licensing agreement, the companies may "just be taking a breather before the next skirmish begins."
The U.S. continues to be a legal battleground, Risch added, as the smartphone market shares for Apple and Samsung shift. Chinese makers Huawei Technologies Co. and Lenovo Group Ltd. are gaining ground globally by offering feature-packed phones at lower prices.
Sales Swell
The patent fights grew out of the surging sales for smartphones. After Cupertino, California-based Apple introduced the iPhone in 2007, popularizing the use of phones with touch screens and Internet access, Samsung followed suit with a wave of models with different styles and prices.
The rivalry sparked two protracted patent-infringement cases in federal court in San Jose, California. Apple scored victories in the two California suits, including a $930 million verdict in 2012 and a $120 million result earlier this year.
The hearings unveiled a trove of internal company documents on both sides, including e-mails showing Samsung's urgency to quickly get a smartphone on the market to match Apple's iPhone, and notes from Apple executives complaining about the effect of Samsung's advertising on the iPhone.
Apple Chief Executive Officer Tim Cook, Samsung mobile chief Shin Jong-Kyun and other executives from both companies attended a full-day session with a mediator in the first week of February, and representatives from both sides had several follow-up phone calls with the mediator, according to a report the companies filed that month. Other sessions in 2012 and 2011 also failed to generate a deal.
Partners, Rivals
The settlement comes as Samsung grapples with declining demand for its smartphones and slumping earnings. Its global market share declined 7.4 percentage points last quarter from a year earlier, and the company lost the top spots in key markets China and India.
Samsung last week also posted its smallest quarterly profit in two years, with its China shipments dropping 15 percent.
"The whole industry paradigm is changing," Lee Seung Woo, an analyst at IBK Securities Co. in Seoul, said by phone. "Apple and Samsung have no time to waste and it's time to get back to work."
Complicating the legal spat has been that Apple and Samsung are close business partners, with Suwon, South Korea-based Samsung providing critical components like semiconductors and memory chips for Apple's mobile devices.
The world's top two smartphone makers have spent hundreds of millions of dollars in legal fees on battles across four continents to dominate a market that was valued at $338.3 billion last year, according to IDC. Samsung controlled about 31 percent of the global market last year, compared with Apple's 15 percent, the market researcher said.
Before it's here, it's on the Bloomberg Terminal.
LEARN MORE