Now Gluten-Free Foods Really Have to Be Gluten-Free
By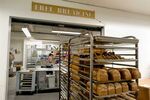 At last count, 28 percent of adults said they were gluten-free, or something close to it; the U.S. market for gluten-free foods has grown to more than $4 billion. And yet, as anyone who's ever wondered whether there's really gluten in oats can tell you, there hasn't been an official definition of what, exactly, qualifies a food as gluten-free. Now there is one, courtesy of the Food and Drug Administration.
Starting on Aug. 5, packaged foods will be officially considered gluten-free if they contain fewer than 20 parts of the protein per million (per kilogram), an amount that even people with celiac disease can tolerate—and the smallest quantity that can be reliably measured. With all the hype and its inevitable debunking, naturally I was suspicious of some gluten-free claims. But the FDA says 95 percent of food labeled gluten-free meets the criteria.
You probably know that gluten is found in wheat, rye, and barley. But it's also in a whole bunch of other foods (as well as alcohol, vitamins, and prescription drugs), so those suffering from celiac disease, and others who want to avoid gluten altogether, have had to become adept at reading ingredient lists. Having an official definition should make that easier when buying food and vitamins. The rule doesn't apply to alcohol or beer. It doesn't apply to restaurants, either, but the FDA is encouraging chains to comply as a public-health service.
The FDA didn't create a new label or logo, and food manufacturers can put the words "gluten-free," or some variation thereof, wherever they please on the product. Also, it's still officially acceptable—and still ridiculous—for bottled water, fruits, and vegetables to declare themselves gluten-free.
Before it's here, it's on the Bloomberg Terminal.
LEARN MORE