Sanofi and Regeneron Pay $67.5 Million to Fast-Track a Cholesterol Drug
By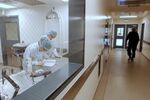 To beat out a competitor and get a cholesterol drug on the market faster, two drug companies are paying $67.5 million to buy a first-of-its-kind voucher for expedited FDA review.
As the Wall Street Journal reported, the voucher in question was awarded to BioMarin Pharmaceutical under a 2012 law designed to reward companies for investing in drugs for rare childhood diseases. Companies that do so now receive a voucher that they can use to seek priority review from the FDA on a different drug of their choice. A company with such a voucher can also sell it to someone else seeking faster FDA approval, which is what BioMarin did, selling it to Regeneron Pharmaceuticals and Sanofi for $67.5 million.
"Our hope was that companies would use them just as Sanofi and Regeneron have," says Nancy Goodman, who founded the advocacy group Kids v Cancer after her son died of pediatric brain cancer, and who championed the inclusion of the special voucher provision in the 2012 FDA Safety and Innovation Act. Goodman says the price in the BioMarin sale, the first such transaction to date, outpaced the $25 million to $50 million she had hoped for, and predicts future vouchers could fetch even more.
That in turn could increase the incentive for companies to develop drugs addressing deadly pediatric diseases, Goodman says, including testing pediatric applications for drugs that didn't pan out for adult use. She says she's aware of two companies (she declined to identify which ones) that each have a drug that failed in testing for adults, but are currently exploring whether it could work for kids. "But you know, it's really unclear how committed the companies will be …" says Goodman. "Now that we know the valuation of the voucher, I'm going to go back and contact these companies and say, 'Look, here's a reason to stay in the game.'"
Before it's here, it's on the Bloomberg Terminal.
LEARN MORE