What Norwegian's New All-Inclusive Fares Reveal About Cruise Pricing
by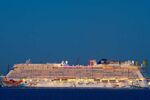 For decades, cruise lines have promoted themselves as a comprehensive vacation: lodging, abundant dining options, port stops, and on-board entertainment—all in the fare. What's left?
Plenty, according to Norwegian Cruise Lines, which is introducing "all-inclusive" pricing for 2015 cruises it sells this month. The package is priced according to the length of the cruise, from three days to two weeks, and offers a 10 percent discount on the cruise fare. The option for a seven-night cruise is $899 per person, more than double the $359 that Norwegian is charging for its basic low-season fare this fall. The package includes unlimited drinks, a $200 shore excursion credit, 20 photos, six bottles of water, prepaid daily service charges, and about four hours of Internet access. Buying the package also waives the usual $10 to $40 cover charge for dining at the company's specialty restaurants, one per night. Factor in enough premium drinking, and the all-inclusive could justify the premium.
The new pricing scheme tweaks the industry's long-standing argument that a cruise is a complete package, all on its own, acknowledging publicly the fact that on-board revenue is critical to cruise lines. (See also: airlines, baggage fees.) Nothing exemplifies this like booze, which cruisers typically pay for by the drink. At Norwegian, the third-largest U.S. cruise line, guests' at-sea spending accounts for about a quarter of the company's total sales.
For the cruise lines, the package has an undeniable financial appeal. Profit margins are tight, and most customers are traveling on a budget. (It's safe to say the all-inclusive has a healthy margin built in.) The all-inclusive package is likely to encourage more experimentation among cruisers, says Norwegian's chief executive, Kevin Sheehan, who calls it the next iteration of industry efforts to package various à la carte items of a cruise into a supplement that people can buy before they embark. "The people who take this program … are actually doing more than they probably otherwise would do," he says. "So you are getting more revenue."
Packages of drinks, for soda, beer, wine, or a combination of all three, have become common on several of the larger cruise lines. At the high end of the market, such cruise lines as Azamara, Crystal, Regent Seven Seas, and Silversea include alcoholic beverages as part of their fares.
Norwegian estimates that about 20 percent of cruise buyers will choose the package, which is available until Aug. 29. It is not available on Norwegian's Pride of America, which sails in Hawaii, or on cruises sold in Europe. "Some people, when they go on vacation," says Sheehan, "like to know they have paid for it."
Before it's here, it's on the Bloomberg Terminal.
LEARN MORE