Ghana Turns to IMF for Help as Currency Crisis Deepens
Pauline Bax and Ekow Dontoh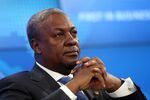 Ghana will seek immediate talks with the International Monetary Fund to help stem the world's worst currency slide, ending four months of contradictory statements from the government about whether it needs emergency aid.
Yields on the nation's Eurobonds due August 2023 fell the most in more than two weeks after President John Dramani Mahama instructed his economic advisers to "open discussions" with the Washington-based lender. Ghana's programs with the IMF are typically two to three years and the government must still decide how much funding it needs, Finance Minister Seth Terkper said by phone from Washington today.
"If only the government can be disciplined to take the prescription, at least it will help the decay," Anthony Kofi Asare, head of treasury at Ghana Commercial Bank Ltd., the nation's biggest lender by branches, said phone from Accra, the capital. "Where we've reached now there's a need for them to do that. We need discipline in the economy."
The currency of West Africa's second-largest economy has plunged 36 percent against the dollar this year as investors lost faith in the government's ability to curb spending and rein in a current-account deficit that's set to exceed 10 percent of gross domestic product this year. Since having most of its debt cleared in 2005 as part of a global relief campaign for poor nations, Ghana has racked up borrowing, while failing to keep government spending under control.
Go Ahead
Conflicting statements from the government about whether it will seek IMF assistance has undermined the currency. The cedi dropped 6.2 percent against the dollar on July 30, a day after Deputy Finance Minister Mona Quartey said the the government preferred a "home-grown strategy" to an IMF loan and planned to sell $1.5 billion in Eurobonds by the end of the month.
The Eurobond will go ahead and is being prepared by the transaction advisers, Terkper said.
The sale may be delayed if it's allowed by the IMF or the amount may be smaller than that sought by the government, Philippe de Pontet, Africa director at New York-based Eurasia Group, said in an e-mailed note. "An IMF loan facility will reassure investors and donors that the Mahama administration is serious about tackling Ghana's economic crisis," he said.
The cedi weakened 0.4 percent to 3.71 against the dollar as of 3:26 p.m. in Accra. The currency earlier fell as much as 6.9 percent and strengthened as much as 6.6 percent. Yields on the nation's Eurobonds fell 22 basis points, or 0.22 percentage point, the most on a closing basis since July 16, to 8.21 percent.
'Put Off'
A weaker currency has spurred inflation to 15 percent in June, prompting the central bank to increase its benchmark interest rate by 1 percentage point to 19 percent on July 9.
"The decision to turn to the IMF is one which Mahama tried to put off for as long as he could and is still reluctant to take," Nicholas Spiro, managing director of Spiro Sovereign Strategy in London, said in e-mailed comments. "One senses that the government has yet to come to terms with the gravity of its financial predicament."
Mahama's comments, made in an e-mailed statement released by the Ministry of Communications on Aug. 1, came days before he participates in the first U.S.-Africa Summit this week, an initiative from President Barack Obama that will draw more than 40 African heads of state to Washington to hold talks with American investors seeking opportunities on the continent. The U.S. administration said it expects to sign more than $900 million in deals during the three-day meeting.
Budget Gap
The IMF "stands ready to engage with the Ghanaian authorities and develop with them a fund-supported program to tackle Ghana's fiscal and external imbalances as soon as a formal request is received," spokesman Ismaila Dieng said in an e-mailed statement yesterday.
Ghana's government is struggling to narrow the budget deficit as wages for state workers ballooned to almost 70 percent of tax income. Terkper last month revised the 2014 fiscal-gap target to 8.8 percent of GDP from 8.5 percent. The shortfall will probably exceed 10 percent of GDP for a third consecutive year, according to Fitch Ratings, which downgraded Ghana last year to B, five levels below investment grade, with a negative outlook.
The current-account deficit may average 11.1 percent of GDP this year, according to the median estimate of five economists surveyed by Bloomberg. The shortfall was 12.3 percent in 2013.
While the decision to ask for IMF bailout is not expected to stop the depreciation of the cedi in the short-term, it will slow down the pace of depreciation, according to Ghana Commercial Bank's Asare.
"I don't expect the cedi to stop depreciating in the next three months," GCB's Asare said, predicting the currency will range from 4 to 4.2 per dollar in 2015. "There hasn't been any improvement in the dollar supply side."
Before it's here, it's on the Bloomberg Terminal.
LEARN MORE