Empty Holiday Shelves Hinge on 120 Los Angeles Truckers
Lynn Doan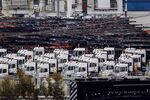 For executives at the ports of Los Angeles and Long Beach, the 120 disgruntled truck drivers who picketed for five days last month proved to be little more than a nuisance. Now the busiest U.S. ports face a potentially wider problem: 7,000 longshore workers joining them.
"The big question now is whether the longshoremen walk," said Phillip Sanfield, a Port of Los Angeles spokesman. "There would be some impact if the truckers disrupt traffic. But if the longshoremen honor the picket lines? It's much, much bigger."
Should members of the International Longshore and Warehouse Union refuse to cross the independent drivers' picket line, it would put at risk a portion of the $435 billion worth of annual trade through Los Angeles and Long Beach, the two largest U.S. ports. That would pinch retailers, many of which have been struggling to increase sales this year, before the holiday shopping season.
West Coast longshoremen have worked without a contract since July 11. Talks between the union and employers represented by the Pacific Maritime Association resumed today after a 10-day break. The old contract prohibited longshore employees from striking in support of the truck drivers. Now, without a contract, the longshoremen are free to join picket lines.
"This could happen, and it would be quite dramatic," said Nelson Lichtenstein, director of the Center for the Study of Work, Labor and Democracy at the University of California at Santa Barbara. "It would shut the ports down. It would stop everything."
Picket Lines
Craig Merrilees, an ILWU spokesman, and Wade Gates, a spokesman for the San Francisco-based Pacific Maritime Association, declined to comment on the drivers' situation.
Merrilees said by telephone that talks between the ILWU and the maritime group resumed today. The union's concerns include workers' safety, new technology that could displace workers and health and pension benefits, he said.
Drivers walked off the job and formed picket lines at three of the eight terminals at the Port of Los Angeles on July 7. Longshoremen, who load and unload cargo ships, arrived for work that day and chose to honor the pickets until an arbitrator ruled that it was against their contract terms.
For the two hours that the longshoremen threw their weight behind the picketers, at least two terminals, operated by Scottsdale, Arizona-based American President Lines Ltd. and Tokyo-based Yusen Logistics Co., closed their gates, Sanfield said.
"The impact of the truckers themselves was really minimal," Sanfield said. "The bigger issue is when the longshoremen follow suit, and they did but were ordered back to work."
Legally Restricted
Should they resume their work action, drivers would be legally restricted to picketing the terminals where their companies do business, which may limit their impact on port operations, said Peter Olney, a retired organizing director at the ILWU. Federal laws, such as the Taft-Hartley Act, that restrict labor unions' actions, may also curb the longshore workers' involvement, he said.
"People will cite the law, and lawyers are going to scurry around with all kinds of theories," said Olney, a former advisory board member of the University of California at Berkeley's Labor Center. "In many situations, power and size trump legal restrictions, and in this case, it's really going to be a question of strength and power."
Harbor Use
Thousands of companies use the harbors in Los Angeles and Long Beach to move merchandise, according to Art Wong, a Port of Long Beach spokesman. They include Issaquah, Washington-based Costco Wholesale Corp., Minneapolis-based Target Corp., Bentonville, Arkansas-based Wal-Mart Stores Inc., Atlanta-based Home Depot Inc., Toyota, Japan-based Toyota Motor Corp. and Berlin-based Mercedes-Benz AG. About 40 percent of all U.S. container trade passes through the Southern California hub, according to the ports.
The odds are not in favor of a strike right now, said David Ross, a transportation analyst for Stifel, Nicolaus & Co. in Baltimore. If negotiations drag on past Sept. 1, the possibility of a work stoppage is heightened, he said. There was more concern before the contract expired, and a lot of shippers took care of third-quarter orders in the second quarter, Ross said.
"Both sides have now said that keeping cargoes moving is a goal," Ross said. "Nobody wants to be painted as killing the U.S. economy."
Another Stoppage
The maritime association, which represents shipping lines and terminal operators, locked out workers at 30 West Coast ports for 10 days in 2002 after contract talks stalled. The cost of that interruption was $1 billion a day, according to the maritime association.
Each day of another stoppage of that duration at the West Coast ports, of which Los Angeles and Long Beach are by far the largest, would sap $2.1 billion a day from the U.S. economy, according to a June report from the National Retail Federation and the National Association of Manufacturers.
By an almost two-to-one ratio, the Southern California ports were the busiest in the U.S. last year when measured by cargo value. Houston and Galveston, Texas, are the second-largest, followed by New York and New Orleans, according to the American Association of Port Authorities, an Alexandria, Virginia-based trade group. The two Texas ports lead the U.S. in tonnage, followed by New Orleans and the Southern California harbors, according to the association. Shanghai is the biggest port by tonnage in the world, the association said.
The drivers haul cargo from the harbors. For years they've protested against logistics companies that categorize them as contractors, which they said deprives them of benefits and wages to which they're entitled.
Week's Pay
Daniel Linares, a 58-year-old contract driver for Long Beach-based Pacific 9 Transportation Inc., received a check July 30 for a week's worth of wages. He said his gross pay was listed as $1,333. The company deducted fees for his truck lease, a parking space, maintenance, diesel fuel and insurance, he said.
"I have a check in my hands for $588," he said.
Pacific 9 Transportation didn't respond to calls seeking comment.
Linares and other drivers agreed to suspend their strike July 11 and enter a "cooling-off period" at the request of Los Angeles Mayor Eric Garcetti, who asked the city's port commissioners to investigate the grievances.
'Dicey Situation'
"It's a dicey situation, and it's a little too soon to tell how everything is going," said Barb Maynard, who works with the International Brotherhood of Teamsters local that's helping the port drivers organize. "The guys were really itching to go back out on strike."
A work stoppage would threaten to halt traffic at the hub just as the U.S. is showing signs of an economic recovery. Manufacturing expanded last month at the fastest pace in more than three years and the economy added more than 200,000 jobs for a sixth straight month.
U.S. retailers are working to claw their way back from harsh winter weather and shaky consumer confidence that cut into their profits in the first quarter. Consumer spending in the first three months grew at the weakest pace in five years and June purchases rose less than forecast, climbing 0.2 percent, Commerce Department data show.
"The last thing they need is for a consumer to come in the door and not be able to get what they want because the retailer doesn't have it on the shelf," said Brian Yarbrough, an analyst with Edward Jones & Co. in St. Louis. "You don't want to see this in good times, but it makes it even worse in difficult times when retailers are dying to drive traffic through their doors."
Labor Disruption
The impact of a labor disruption at the Los Angeles and Long Beach ports would depend on how long it lasts, Yarbrough said. Many retailers have enough items in their distribution centers to replenish stores for a few weeks, but if it continues for longer it could lead to empty shelves, he said.
The port's staff is pulling together a report for the mayor's office after talking to people on both sides of the fight, according to Sanfield, the Los Angeles port spokesman.
Longshoremen tend to respect picket lines, said Harley Shaiken, a professor at the University of California at Berkeley who specializes in labor and trade.
"The reality is the mayor of Los Angeles is involved, and the consequences of a shutdown would be very costly and there will be a real effort to avoid that," Shaiken said. "Everyone is concerned not just with avoiding the strike but avoiding anything that looks like it's going to cause a disruption."
Before it's here, it's on the Bloomberg Terminal.
LEARN MORE