Rescue Efforts Underway After Deadly Earthquake in Southwest China
Christina Larson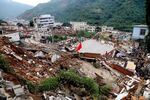 A powerful earthquake jolted the mountains of southwestern China on Sunday at 4:30 p.m. local time, killing at least 381 people and injuring more than 1,800, according to state media reports. The quake, measured at 6.1 magnitude by the U.S. Geological Service, toppled at least 12,000 homes in the poverty-stricken region of Yunnan province where it struck. Landslides covered roads and downed power lines. Meanwhile, rescue teams organized by the People's Liberation Army scrambled to reach the remote area to deliver food, medical supplies, clothing, 2,000 tents, and 3,000 folding beds.
On Sunday night, both the White House and the United Nations pledged to offer assistance. "U.S. disaster response officials are in contact with their Chinese counterparts. The United States stands ready to assist," National Security Council spokeswoman Bernadette Meehan said in a statement. The UN will "lend its assistance to efforts to respond to humanitarian needs created by the disaster and to mobilize any international support needed," a spokesperson for UN Secretary General Ban Ki-Moon said in a statement.
The earthquake's epicenter depth was 6.2 miles; it occurred 7 miles from Wenping, a small city on the border between Yunnan and Sichuan province and 18 miles from Zhoutong, a larger city with 5.5 million people in its administrative area. Most of the recorded deaths have been in Zhoutong's Ludian County. With many people missing, death counts are expected to rise. The Yunnan Provincial Department of Civil Affairs told Xinhua newswire that at least 57,200 people will need to be evacuated.
Zhoutong resident Ma Liya told Xinhua that the streets near her home, strewn with toppled buildings and power lines, looked like a "battlefield after bombardment. It's so terrible." Two years ago, a 5.6 magnitude earthquake struck 23 miles from Zhoutong, killing 81 people and injuring 821. "The aftermath [of yesterday's earthquake] is much, much worse than what happened after the quake two years ago," said Ma. "I have never felt so strong tremors before. What I can see are all ruins."
In May 2008, a devastating 7.9 magnitude earthquake struck Sichuan province, located just north of Yunnan. More than 87,000 people were killed, roughly 10,000 of them children trapped inside poorly constructed school buildings. Yesterday's earthquake in Yunnan also raised the issue of construction quality. Rampant local corruption and China's long-running construction boom often lead to shortcuts in standards and oversight, with public buildings such as schools exceptionally likely to be built to only "tofu-dreg" standards, as the Chinese slang goes. Xinhua reports that at least 30,000 buildings were badly damaged in the quake zone. Ludian, like many mountain areas, has a high percentage of generally poor ethnic minorities.
Cellphone photos distributed over social media and via Xinhua show residents and rescue workers searching in crumbled buildings for bodies; streets piled with rubble; and yawning cracks in cement buildings and pavement.
Before it's here, it's on the Bloomberg Terminal.
LEARN MORE