Did a Business School Cheat the Rankings?
By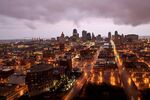 How could a small business school at the University of Missouri-Kansas City beat Harvard, Stanford, and MIT in a ranking of entrepreneurship? By cheating, suggests a report in the Kansas City Star newspaper, which accused the university of meddling with an independent study that ranked its Henry W. Bloch School of Management first in innovation management. Missouri Governor Jay Nixon called for an inquiry into the university's rankings on Thursday.
In a letter to the University of Missouri Board of Curators, Governor Nixon said the article "raises serious questions about the integrity of the scholarship and strategies that have been employed to raise the profile of the institution."
The two authors of the study worked at the Bloch School—named after the co-founder of H&R Block, the tax preparation company—while they compiled the rankings, according to the Star. The rankings appeared to be designed to include criteria that elevated Michael Song, a Bloch professor who shared an office with the paper's authors and who reviewed the study before publication, the Star said.
"We contend that it is the newspaper's one-sided reporting, and not the acclaim that our programs and faculty have earned, that is truly misleading," the University of Missouri-Kansas City said in a statement, adding that it welcomed a review of its claims.
In its response to the allegations, the university noted that the journal that published the study conducted two investigations into the paper that found no evidence of a "fatal flaw in the methodology."
The University of Missouri Board of Curators said auditing firm PricewaterhouseCoopers would be reviewing the case, and added that the board would not comment on the inquiry until it's completed.
A separate report in the Star suggested that the Bloch School inflated statistics used to rank institutions at the Princeton Review, which gave the school top marks for entrepreneurship in recent years. The Star said university officials used shoddy accounting to suggest that 100 percent of its entrepreneurship graduates went on to start a business, and to inflate the number of student groups on campus.
The debacle shines a harsh light on the lengths schools will go to eke out an advantage over competitors in rankings created by Bloomberg Businessweek, U.S. News and World Report, the Financial Times, and others. Like a football or hockey team stuck at the bottom of the league standings, business schools that have poor showings on academic score sheets face an uphill battle to attract top talent. That's partly because it's harder to get companies to pay for a full ride at a school seen as underperforming, and partly because a B-school's ability to justify high tuition and raise money from donors hinges on its spot on the charts.