Crown Resorts Pays $280 Million for Las Vegas Strip Site
David Fickling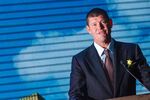 Crown Resorts Ltd., the gambling company controlled by billionaire James Packer, plans to open a casino on the Las Vegas Strip after paying $280 million for a site formerly occupied by the New Frontier casino.
Crown will partner with Andrew Pascal, former president of Wynn Las Vegas, to open a resort on the 34.6 acre (14 hectare) site by 2018, the Melbourne-based company said in a regulatory statement today. Packer had been in talks with companies whose loans backed the property including Oaktree Capital Group LLC, people with knowledge of the matter said Aug. 1.
The development will be Crown's third try in Las Vegas after Fontainebleau Resorts LLC and Cannery Casino Resorts LLC. failed to prosper. The resort will diversify Crown's global earnings from casinos in Melbourne, Perth and London, planned developments in Sydney, Brisbane and Sri Lanka, and stakes in Macau's City of Dreams resort and potential investments in the Philippines and Japan via its 34 percent share of Melco Crown Entertainment Ltd.
Crown is on a "much stronger footing for another crack at Nevada" that it was previously, Morningstar Inc. analysts wrote in an unsigned note to clients today. The development fills "a critical hole in its portfolio offering for VIP patrons, especially in Asia," the analysts wrote, referring to high-rolling gamblers who casinos like to fly to multiple locations.
Special Reverence
The site is about a mile (1.6 kilometers) from the Flamingo Las Vegas towards the northern end of the Strip, at a location flanked by the Wynn and the Trump International Hotel.
"You can't be in the gaming industry and not have a special reverence for Las Vegas -- that's where it all began," Packer said in a statement. "While we fell short in past attempts to enter that market, we now have the ideal opportunity."
Crown shares fell 1.1 percent to A$15.82 at the close in Sydney, compared to a 0.3 percent drop in the S&P/ASX 200 index.
Before the 2008 financial crisis Crown invested about A$792 million in a 20 percent stake in Fontainebleau, which had sought to build a new casino in Las Vegas, as well as smaller holdings in Stations Casino Group, Harrah's Entertainment Inc., and LVTI LLC. The value of all those investments was written down to zero by the time of its 2009 financial report.
The company also paid $320 million in 2009 for a 24.5 stake in Cannery, which owns a casino off the Strip in north Las Vegas. It hasn't received any dividends or recognized any earnings from the group since then.
Macau Slips
Crown's existing markets have shown patches of weakness in recent months. Casino gambling revenues in Macau fell from the previous quarter during the three months to June at the fastest rate since 2003. Macau casino revenue fell 3.6 percent to 28.42 billion patacas ($3.56 billion) last month.
In Australia, a measure of consumer confidence hit a three-year low in May, and first-half earnings missed estimates Feb. 21 amid a 26 percent decline in bets from high-rolling gamblers.
The Las Vegas plot is "the best piece of undeveloped land on the Las Vegas Strip," Bruce Karsh, President of Oaktree, said in a statement today. Building work on the project will in the second half of 2015.
Before it's here, it's on the Bloomberg Terminal.
LEARN MORE