Not a Drop to Drink in Toledo as Algae Toxin Fouls Water
Mark Niquette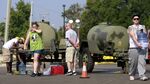 Hundreds of thousands of residents in and around Toledo entered a third day bedeviled by water contaminated with an algae toxin as officials wait for acceptable test results before lifting a ban on its use.
Ohio Governor John Kasich has declared an emergency in the state's fourth-largest city and surrounding counties. Seven distribution centers opened to provide hydration for residents, and the state is trucking in water. Restaurants have been closed unless they use bottled water. The region's largest hospital system canceled non-emergency surgeries.
While most samples are showing acceptable levels of toxins, tests from two distribution areas had higher readings, said Lisa Ward, a city spokeswoman. The ban is being extended pending further investigation in those areas, she said.
"We just want to make sure that when we lift the do-not-consume order that we don't have to turn around and go right back," Ward said today.
Residents were ordered not to drink the water on Aug. 2 after chemists at Toledo's treatment plant found two sample readings for microcystin -- produced by blue-green algae -- that were high enough to entail risks of abnormal liver function, diarrhea and other conditions, the city said in a notice on its website.
Boiling the water before use, recommended when bacteria is present, won't destroy the toxins and will increase their concentration, the city said.
Poison Plants
Lake Erie, a source of the city's drinking water, may have been affected by an algal bloom that occurs when excess nitrogen and phosphorus gets into lakes and streams, according to the notice. That can happen with runoff from over-fertilized fields and lawns, malfunctioning septic systems and livestock pens, the city said.
There are 15 Ohio communities that get their drinking water from Lake Erie, and all have been asked to increase their testing, said Heidi Griesmer, a spokeswoman for the Ohio Environmental Protection Agency. There have been no reports of any problems outside the Toledo area, she said.
About 60 people went to area hospitals complaining about nausea and other systems, though there are no suspected illnesses linked to contaminated water, said Eric Zgodzinski of the Toledo-Lucas County Health Department.
Operations haven't been affected so far at Chrysler Group LLC, which employs about 5,000 people making Jeep Wrangler and Cherokee vehicles at its Toledo Assembly Complex, spokeswoman Jodi Tinson said. Tanker trucks and bottled water for employees are being used, she said.
Restocked Businesses
Long lines quickly formed at water-distribution centers and store shelves were emptied of bottled water Aug. 2 after the public supply was effectively cut off to Toledo, most of its suburbs and a few areas in southeastern Michigan, the Associated Press reported.
While stores are limiting purchases of water, businesses are being restocked, Ward said. The distribution sites are getting 33,000 gallons of drinkable water from the Ohio National Guard, 15,000 gallons in collapsible containers and 9,000 cases, with additional deliveries arriving, the city said in a release.
"We don't anticipate any more disruption to the local economy than we've seen," Ward said.
The Ohio Department of Rehabilitation and Correction is using a milk-processing operation at a state prison to pasteurize water at a rate of 5,000 gallons every four hours for shipping to Toledo, the state said.
No Showers
Residents, in addition to being advised not to drink the water, were told not to use it to prepare food or infant formula, to brush teeth, or to give to pets or livestock. Children shouldn't shower or bathe in the water because they could ingest it, the state said in a release.
"What's more important than water? Water's about life," Kasich said, according to AP. "We know it's frustrating."
The Ohio Environmental Protection Agency has said it developed a "proactive harmful algal bloom response strategy" for public water systems. The 2014 draft calls for voluntary weekly sampling for microcystin and more frequent testing if it is detected above a certain level, according to a July 23 release.
Before it's here, it's on the Bloomberg Terminal.
LEARN MORE