Polaris Sends an Indian Scout to Find First-Time Bikers
By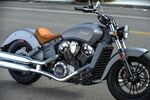 The long-defunct Indian motorcycle brand has been back on the road for almost a year. Now it's ready to branch out with a smaller, cheaper model.
Polaris Industries, the company behind the new Indians, this weekend pulled the cover off the Scout at the annual motorcycle rally in Sturgis, S.D., with actor Mark Wahlberg on hand to help with the debut.
At 558 pounds, the new Indian motorcycle will weigh almost one-third less than the Chief Classic, the foundation of the Indian line. A starting sticker price of $11,000, compared with $19,000 for the Chief, will also be easier to handle. "It's exactly what everybody has been asking for," says Steve Menneto, vice president of motorcycles at Polaris.
Like the rest of the Indian product line, the Scout hauls a heavy dose of history. In the first half of the 20th century, Indian's heyday, it was the company's second best-selling model. During World War II, thousands of Scouts zipped U.S. soldiers around Western Europe. So the new bike carries the kind of brand heritage that takes decades to make.
But Harley-Davidson carries just as much Americana in its panniers, including a similar story about supporting the troops. And for all of its marketing thunder, Polaris's Indian is still a small player. It has captured only about 3 percent of the market for heavy bikes, according to a recent conference call.
Polaris plans to double its network of 150 U.S. Indian dealers in coming months. At the same time, the brand is bent on revving up abroad. It's also in the process of hiring up to 300 workers at its plant in Spirit Lake, Iowa, which will bring headcount at the facility to 1,050. "The most challenging thing has been going faster, earlier," Menneto said. "People want more bikes; they want more apparel."
Harley, meanwhile, has wasted no time in its own race for first-time riders. Its Sportster line of small, urban bikes has six different models and this summer the company is touring the country with a fleet of experimental electric bikes in a nod to the Prius crowd.