Netanyahu Says Gaza Redeployment Planned to Reduce Friction
Gwen Ackerman, Jonathan Ferziger and Saud Abu Ramadan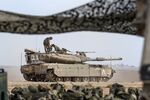 Israel is reviewing the deployment of its forces in the Gaza Strip to "minimize friction" with Hamas and other militants while the campaign against them continues, Prime Minister Benjamin Netanyahu said.
"After the operation against the tunnels is completed, the Israeli military will redeploy according to its security needs," Netanyahu said in televised remarks from Tel Aviv tonight. He didn't elaborate on the details of the planned troop movement.
Shlomo Brom, a retired general and senior fellow at the Institute for National Security Studies in Tel Aviv, said Netanyahu's remarks indicated that Israel may ultimately weigh a unilateral pullout.
"Instead of trying to reach an agreement with Hamas, which seems impossible, the government is going to withdraw most of its forces while staying very close in case they have to go in again," Brom said.
The army said it has uncovered more than 30 tunnels used for attacks on Israel since the crackdown in Gaza commenced on July 8. Israel has said it believes one such tunnel was used in the suspected kidnapping of one of its soldiers that forces were searching for even as Netanyahu spoke. Hamas has raised the possibility the soldier was seized and then killed in an Israeli bombardment.
The last time a soldier was seized, Israel traded more than 1,000 Palestinian prisoners to free him in 2011 after five years in captivity.
Broken Truce
Israel and Hamas, the militant group that rules Gaza, have accused each other of shattering a humanitarian cease-fire brokered by the U.S. and the United Nations that was supposed to go into effect early yesterday. The truce was sought as a reprieve from more than three weeks of fighting that has killed more than 1,650 Palestinians, many of them civilians, as well as 63 Israeli soldiers and three civilians.
Israel, like the U.S. and European Union, considers Hamas a terrorist organization and says the Islamic group uses civilians as human shields.
Netanyahu, in his televised remarks, said the operation in Gaza "will take as much time as necessary, and will exert as much force as needed."
As it ends, "We will deploy in the places most convenient to us," he said.
Hamas Response
Hamas said a unilateral Israeli withdrawal wouldn't necessarily mean it would stop fighting. "The actions on the field will determine our response," the organization's spokesman Sami Abu Zuhri said in an e-mailed statement.
In Cairo today, Egypt's President Abdel-Fattah el-Sisi said his country's July 14 truce initiative, which Israel accepted and Hamas rejected, is still on the table.
While representatives of Hamas said they would attend new Cairo talks, Israel will stay away because it doesn't believe Hamas can be trusted to abide by the terms of a cease-fire, Israel's deputy defense minister, Tzahi Hanegbi, said in an interview with Channel 2 television. He said the renewed shelling of targets in Gaza will ensure that Hamas "won't dare fire on us for years."
Israel says Hamas should be disarmed under any agreement, while Hamas demands the lifting of an Israeli-Egyptian embargo on the territory.
Netanyahu, who in his televised comments also spoke to journalists, said Israel's military operation would end when "quiet" is returned to civilians of Israel. He said Israel would make "every effort to bring back its missing boys."
No group has yet claimed to have captured Lieutenant Hadar Goldin, 23, who went missing yesterday.
Since the fighting in Gaza began, Gaza militants have fired more than 3,000 rockets at Israeli towns and cities and the Israeli air force has hit more than 4,600 targets in the Hamas-controlled seaside strip, according to the army.
Before it's here, it's on the Bloomberg Terminal.
LEARN MORE