Taking a Classic Asian Train Trip on the Eastern & Oriental
by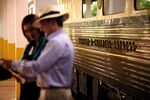 The Eastern & Oriental Express: Even the name is evocative, conveying a sense of romance, grandeur and the elegance of a bygone era. Writer Paul Theroux described it perfectly in his book, The Great Railway Bazaar: "Anything is possible on a train: a great meal, a binge, a visit from card players, an intrigue, a good night's sleep, and strangers' monologues framed like Russian short stories."
I signed up for E&O's classic Singapore-to-Bangkok rail journey. The train travels north from the tip of the Malay Peninsula, making stops in Kuala Lumpur, Butterworth and the River Kwai station before finishing in the Thai capital. The three-day, two-night trip starts at around $2,600.

My first glimpse of the fabled train came after clearing Malaysian immigration at Singapore's Woodlands station. It was very long – some 21 carriages to be exact. With each coach measuring 23 meters, the train extended for nearly half a kilometer. It was painted in 'British Racing Green' with a beige stripe, a white roof, brass lettering and a crest. It was breathtakingly beautiful.

The train simply begs to be photographed. It feels magical, like a mix of Harry Potter and Downton Abbey. At the entrance to each carriage, a steward liveried in green and gold welcomes boarding passengers, like a step back in time to the turn of the 20th century. The carriage interiors are decorated in veneers of wooden marquetry. The dining cars have Chinese and Thai lacquer and one with Malay motifs. The bar is adorned with rich Thai carvings and engraved mirrors and the fabrics are colored in rich reds, golds and greens. It's imperial and old school…and for me, it was love at first sight.

No Smartphones
The anachronism extends to technology. If you need a constant stream of data to keep you alive, this is not the trip for you. There's poor-to-no wireless service once the journey begins, and the operators are quite proud of it. All you can use your smartphone for is taking photos or playing offline games.

"Our train itineraries offer our clients the chance to switch off, to relax and disconnect from their busy modern day lives," says Nicolas Pillet, general manager of the Eastern & Oriental Express. "Very often clients ask me at the beginning of the journey whether we have Wi-Fi on board or even television. I tell them no, because we want to offer this disconnection. After a few hours, guests seem to settle in and at the end of the day, they're completely sold. We promote the disconnection as well as the nostalgia."

Ah, and what nostalgia! As soon as you set foot on the platform and board the train, you enter a different era – the ambiance, the furnishings, the bar, the restaurant car, the other passengers. It's a throwback to a time when travel was the journey itself, not just the destination.

To be sure, the train cabins aren't large – you can't expect much space aboard a train – but they're well appointed, comfy and cute. (Very large or heavy people might find the space too limiting.) During the day, the compartments are configured as private lounges with banquette-style sofas. At night, the seats convert into beds. A private en-suite shower, washbasin and toilet are also provided in the cabin, along with a tiny wardrobe.
There's something so refreshingly traditional about taking a train, particularly if you're traveling over a long, multi-night route. It's all the better when the accommodations include old world décor, real silverware and fine china in dining cars with full-service, four-course gourmet meals, and uniformed wait staff. Add to that the lack of cyber-distractions and time to spare, and you'll rediscover how to relax.
Paper, Please
The languid hours call for plenty of reading and maybe a travel Scrabble or deck of cards. A Kindle is perfect for this trip; I loaded mine up with appropriate classics like The Great Railway Bazaar, Murder on the Orient Express and Strangers on a Train. I also brought a hard-copy edition of Harry Potter and the Philosopher's Stone because there are some things that have to be done the old-fashioned way. Reading about the Hogwart's Express with my feet tucked comfortably in an armchair and Malay kampongs scrolling by at 60 kilometers per hour screamed for paper, not an LCD.
If you're feeling peckish, you need only ring for the butler and ask for some tea. Mr. Carson at your service…
Eventually, all the passengers wander back to the Observation car located at the end of the train. It's fitted in brass and teakwood and open to the air – the perfect place to enjoy the countryside drifting by, snap photos and enjoy a pre-dinner cocktail while watching the sunset.

Train trips like this attract an eclectic bunch of people, mostly older and well-heeled; some seeking a refuge from modern distractions, while others are there for a special occasion like an anniversary or significant birthday. One passenger I met, named Jill Woodford, came from the U.K. with her husband to celebrate her 50th birthday aboard the E&O. It was her first trip to Asia. "I'm half a century," she said. "I've been planning this for about a year. I love dressing up for dinner."
Yes, you have to dress up for dinner. No sneakers, no shorts. Break out the fancy jewelry.

Most of all, Woodford loved the leisurely pace. "My life at home is round-the-clock the whole week," she said. "Here on the E&O, we'll get there when we get there!"

In fact, that's the whole point. It takes three days to get from Singapore to Bangkok on the E&O. You can fly there in two hours and 20 minutes for a fraction of the cost, but you would miss out on so much.
On the last afternoon, about three hours outside of Bangkok, our cabin steward Surachai brought in high tea on a silver tray service. He also very politely handed me a note with his e-mail address. Would it be possible, he asked, to please send copies of the photos we took of him? Very sweet.

"Travel [is] flight and pursuit in equal parts," Theroux concludes. "The notion of travel as a continuous vision, a grand tour's succession of memorable images across a curved earth – with none of the distorting emptiness of air or sea – is possible only on a train." He couldn't have said it better.
Before it's here, it's on the Bloomberg Terminal.
LEARN MORE