Mittal's Fortunes Hit as Iron Slump Counters Steel Growth
Thomas Biesheuvel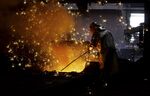 Billionaire Lakshmi Mittal can't catch a break.
A collapse in iron-ore prices is damping profits at the mining unit of the company he heads, ArcelorMittal. That undercut his strategy for the world's biggest producer of steel to take advantage of rising demand for the metal in the U.S. and Europe.
ArcelorMittal shares fell the most in two years today as the company cut its earnings forecast for 2014, citing the slump in iron-ore prices in the first six months of this year. At the same time, Mittal's company is upgrading steel growth forecasts for Europe and the U.S., markets that have dogged its business since the global financial crisis.
While the Luxembourg-based company remains committed to its plan to produce all its own raw materials and cut its dependence on rivals, its executives signaled they may switch investments from mining to steelmaking.
"We are conscious that we should not be having too much capital allocated to the mining business to the detriment of the steel business," Aditya Mittal, chief financial officer, said on a call with reporters. "We should now start taking the opportunity of the recovery in the steel business."
Earnings Shortfall
The company reported second-quarter Ebitda rose 3.7 percent to $1.76 billion from a year earlier. That was short of the $1.84 billion average of 18 analyst estimates compiled by Bloomberg. ArcelorMittal reported net income of $52 million, its first quarterly profit in two years.
ArcelorMittal dropped as much as 7.5 percent to 10.515 euros in Amsterdam, the biggest intraday drop since August 2012. The stock traded 6.6 percent lower at 10.615 euros as of 12:38 p.m. local time.
The company is spending about $1 billion on expansion this year, with two thirds allocated to mining, Mittal said. While the ratio for 2015 will be similar, after that more will be spent on steel.
"Based on the project pipeline over the medium to long run, I'd expect steel to have a greater share," the CFO said.
Profit Share
Even after expanding iron-ore output, the mining unit's share of earnings before interest, taxes, depreciation and amortization fell to less than a quarter of group profit in the first six months, from as much as 30 percent in 2011.
Lakshmi Mittal, the chief executive officer and 41 percent shareholder, has added mining assets from Brazil to Liberia since Mittal Steel Co. bought Arcelor SA in 2006 in the steel industry's biggest takeover. The company, which was the fourth largest iron-ore producer last year, is planning to expand capacity to 84 million tons by 2015.
It's still chasing further iron-ore production. ArcelorMittal said that it had agreed to buy stakes held by BHP Billiton Ltd. and Areva SA in the Nimba deposit in Guinea, giving the steelmaker 56.5 percent of a project that is adjacent to a mine it already operates across the border in Liberia.
Guinea Deal
Closing the deal, which is subject to approval from the government of Guinea, would allow the company to exceed its iron-ore capacity after 2015, the CFO said.
ArcelorMittal forecast that 2014 Ebitda will be "in excess" of $7 billion, compared with an earlier projection of $8 billion. The profit prediction, made at the beginning of 2014 and reiterated in May, was based on iron ore averaging about $120 a metric ton this year, an estimate revised to $105 today.
"Demand out of China has been weaker than anticipated and, more importantly, the supply has been consistent and strong," Aditya Mittal said. "People may have expected some delays" in the expansion of mines around the world.
The price of the key steelmaking ingredient fell below $90 a ton for the first time since 2012 last month. Mining companies, including Vale SA and BHP, have expanded production, betting on sustained growth in demand from China even as economic expansion slowed.
Iron Market
While iron ore weighs on its earnings, the company continues to see an improvement in the steel industry in the U.S. and Europe, its biggest markets. The company raised its forecast of demand growth in the U.S. to as much as 6 percent from 3.5 percent to 4.5 percent. It increased its expectations for European demand to rise as much as 4 percent, from 2 percent to 3 percent.
ArcelorMittal has shuttered plants and fired workers as it seeks to emerge from an industry trough after dwindling demand and excess capacity shrunk profit margins.
ArcelorMittal, which reported Ebitda per ton of steel of $82 in the quarter, has a medium-term goal of $150 as it cuts costs and demand improves. The steelmaker has reduced $4.8 billion in costs since 2008 and targets a further $3 billion in savings by 2015. It has shrunk its workforce by more than 80,000 and closed plants in Belgium and France.
Before it's here, it's on the Bloomberg Terminal.
LEARN MORE