Aereo, in Denial About Its Recent Death, Goes Begging for a Legal Lifeline
By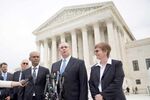 Aereo is begging a court to allow it to restart its business before it's too late. In a legal filing the company says it won't survive without an emergency ruling allowing it to offer a service it can charge customers for. "Aereo is currently incurring staggering costs without accruing any revenue. The company is figuratively bleeding to death," it wrote in the filing, admirably resisting the urge to misuse the word "literally."
Would Aereo bleed out even if a judge does rule in its favor? It's certainly possible. The company loudly proclaimed this spring that it didn't have a backup plan if the Supreme Court ruled against its business of using scores of tiny antennas to record broadcast television for subscribers. Barry Diller, its largest investor, took a writedown on his investment after the court did just that.
But Aereo itself scrambled to come up with a new solution. It decided to embrace the court's opinion that it was actually a cable company, which would allow it to stream broadcast television so long as it paid fees to do so.
Aereo's argument was a little convoluted, as Brian Fung of the Washington Post explained: The company wanted to qualify as a cable company in the eyes of copyright law, but not communications law. This would allow it to operate under compulsory licenses that are cheaper than retransmission fees. In any case, the U.S. Copyright Office wasn't convinced and officially voiced its skepticism while delaying an actual decision until the courts figured it out.
Now Aereo is saying this is how its story will end, unless something changes soon. But the Supreme Court has already taken away the distinguishing characteristic of its business model, which was to stream broadcast television content without paying the copyright holders to do so. If Aereo succeeds in its current plan, it could find itself competing on even ground with other Web-based Internet companies, such as Hulu and Netflix, which would seem to be eligible for any benefit Aereo itself secured. They could then add an Aereo-esque service onto their existing offerings—if that seemed like something large groups of people would want. (It's not clear it is.)
Other Silicon Valley companies eyeing video businesses would be in the same boat. Aereo, without the user base, deep pockets, or existing content deals of more mature Web-TV companies, would be in a difficult position.
Before it's here, it's on the Bloomberg Terminal.
LEARN MORE