World Cup Blowout Lays Adidas Low
By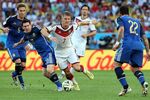 The World Cup final was a three-stripe affair, with the Germans and the Argentines wearing Adidas jerseys while they kicked an Adidas ball. The only place where Adidas was noticeably missing—besides maybe a Beastie Boys half-time show—was on the foot of the decisive scorer: Mario Gotze's game-winning goal happened to be volleyed off of a Nike swoosh.
Still, it turns out all the expensive soccer sponsorships may have been a bit too lavish for the German sports giant. Adidas lowered profit expectations for the year on Thursday, in part because of the big checks its marketing team was stroking in Brazil. All told, Adidas said it will miss its profit forecast by €180 million ($241 million). That's 1.5 million Brazucas.
Returns on marketing investment are always tough to divine, but consider this data point: Net income at Adidas this year will be about €650 million, which would be a 17 percent drop from 2013, when it wasn't worrying about soccer's grandest stage.
Nike spent handsomely on the World Cup as well. But its marketing team appeared cagier. Instead of throwing money at FIFA, Nike bankrolled high-production YouTube films. Nike locked up the home team and then essentially squatted on the World Cup, sponsoring by association rather than a formal contract.
Official sponsorships, however, are what Adidas does. The company abandoning FIFA would be like Spain giving up tiki-taka for a long-ball strategy. With Nike threatening its share going into the World Cup, Adidas didn't dare change its tactic. Even now the company cast a confident light on its decisions.
In this morning's statement, Adidas called its World Cup play a "winning performance" that shows what the company is capable of when its managers "execute flawlessly." The investors who sent Adidas shares plummeting 16 percent this morning might have chosen a different adverb: "expensively."
"The profit warning was expected by us but came in sharper than feared," Baader Bank analyst Volker Bosse said in a note to clients today.
To be fair, Lionel Messi's sponsorship deal and the rest of the soccer spending isn't the only problem. Adidas is facing a major downside in Russia as economic sanctions tighten on the country's already shaky economy. Last year, it sold €1 billion worth of gear in Russia.
A global downturn in golf is also haunting Adidas. Sales of its TaylorMade brand, which historically account for almost 10 percent of revenue, declined 18 percent in the second quarter.
Before it's here, it's on the Bloomberg Terminal.
LEARN MORE