pursuits
Whole Foods Discovers That Shoppers Prefer Affordable Salmon
By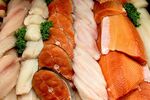 To shake its "whole paycheck" reputation, Whole Foods has been pushing to lower the cost of packaged goods, particularly in its budget 365 line. In a related experiment earlier this year, the supermarket started lowering seafood prices: Farm-raised salmon in its seafood cases sold for roughly $10.99 per pound.
That's certainly not cheapest salmon around, but it was a hit with Whole Foods shoppers. "We saw a huge lift in the amount of pounds of salmon we sold when we reduced our price," said the chief operating officer, A.C. Gallo, said on an earnings call this week. "We're really happy with that experiment and plan to expand on that some more this coming year."
The supermarket chain worked with a new producer that met the company's no-antibiotic, no-hormone, no-pesticides standards and also took advantage of lower feed prices, which allowed the producer to increase the volume of salmon farmed and bring down the cost, according to Whole Foods spokeswoman Robin Rehfield Kelly. In turn, Whole Foods lowered its price on salmon by 15 percent to 20 percent. The chain did not immediately provide information on how much salmon sales increased.
While salmon prices dropped, other prices continues to climb slightly last quarter. It was the 10th quarter in a row in which the grocery chain raised overall retail prices less than its costs increased, which cut into its margins. While the average price per item increased 2 percent, gross margins dropped to 36.3 percent, from 36.6 percent a year ago.
The decisions on pricing are part of a broader strategy of diversifying offerings to include low-, middle-, and high-priced options. In the produce section, this change is reflected in tiers for cheap, regular, and premium apples. Strangely, consumers didn't react as enthusiastically to price reductions on some packaged goods.
"Our focus going forward," said Whole Foods co-Chief Executive Officer Walter Robb on the earnings call, "is primarily on perishables." While he did not specify particular products, this category includes items such as prepared foods, bakery, produce, dairy, and meat. Whole Foods said it will try to narrow the price gap with competitors, expand the selection of goods at entry-level price points, and increase promotions.
Before it's here, it's on the Bloomberg Terminal.
LEARN MORE