Sarah Bloom Raskin, Treasury's Point Person on Student Loan Defaults
The deputy Treasury secretary tries to stem the tide of student loan defaults
By and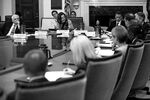 Deputy secretary, U.S. Department of the Treasury
Last year almost 7 million Americans defaulted on federal student loans. That's a problem not just for borrowers but for the government, which backs more than 90 percent of new loans. In June, after Congress blocked a proposal to help students refinance, ­President Obama ordered the Education and Treasury departments to find ways to make repayment more affordable. Leading Treasury's effort is Sarah Bloom Raskin, the agency's No. 2 official.
As Maryland's top financial regulator, Raskin rewrote foreclosure rules to help homeowners. Now she has the power to change the way ­delinquent ­higher-education loans are collected without waiting for legislative action. "From the time students sign the promissory note to the moment they make their final student loan payment, we must have the necessary programs in place to ensure they are able to successfully manage their loans," Raskin wrote in an e-mail.
As a first step, she wants to expand ­enrollment in programs tying loan payments to income. Raskin has tapped experts and academics for other ideas. "At the Fed, you could look at it and think about it, but you couldn't do much directly about it," says Elizabeth Duke, who served with Raskin on the Fed's Board of Governors. "At Treasury, she can affect implementation of the solutions she comes up with."
Before it's here, it's on the Bloomberg Terminal.
LEARN MORE