The Feds Say Pennsylvania's Push-Up Test for State Troopers Is Sexist
By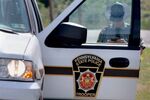 The federal government is suing Pennsylvania over a physical fitness test it says unfairly and unnecessarily disadvantages women who apply to become state troopers.
Applicants to the Pennsylvania State Police Academy must pass its Physical Readiness Test, which requires, among other things, jumping 14 inches in the air; running 1.5 miles in 17 minutes and 48 seconds; and performing 13 push-ups. The police department maintains that each aspect of the test measures a skill necessary for the job: It says (PDF) push-ups, for example, reflect on an applicant's aptitude for "tasks including use of force, lifting, carrying, and pushing."
In a lawsuit (PDF) filed on Tuesday in federal court in Pennsylvania, the Department of Justice argues that the test—along with its previous version—is "not job-related for the entry-level trooper position" and "not consistent with business necessity." The agency contends that alternatives are available that would accomplish the police department's legitimate goals with less discriminatory impact.
The lawsuit comes five years after the Civil Rights Division of the Justice Department started investigating state police hiring in Pennsylvania. If the lawsuit was intended to force a settlement, so far there are no signs the state will budge. In an e-mailed press release, Pennsylvania State Police Commissioner Frank Noonan declared himself "extremely disappointed" in the suit, and said his department "should not be bullied into lowering our standards for any applicants." At a press conference on Wednesday, Noonan told reporters: "We can't say, 'OK, we're gonna need more physical strength in this area. We'll send a stronger, in-shape trooper to that area.'"
The Justice Department, in a press release, says the suit is part of its efforts to eliminate "artificial barriers that keep qualified women out of public safety work." In its brief, the agency says that from 2009 to 2012 about 98 percent of men passed the current test, while only 72 percent of women did. From 2003 to 2008, under a previous test that the DOJ says was also discriminatory, about 71 percent of women passed, compared with 94 percent of men. Right now about 1 in 20 Pennsylvania state troopers is a woman.
Before it's here, it's on the Bloomberg Terminal.
LEARN MORE