pursuits
As the Oldest Teslas Turn Two, Nagging Questions About Reliability
By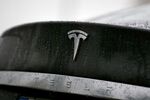 As Tesla prepared to swing by Wall Street for a financial update Thursday evening, the upstart automaker was badly dented on Edmunds.com. The California-based car critic just sold its Tesla sedan and published a lengthy list of maintenance issues it encountered in its 17 months of ownership.
Here's the litany of complaints according to Edmunds: The touchscreen froze twice, the steering wheel starting creaking, the sunroof wouldn't open at one point, the hinges on the vanity mirror cracked twice, the taillights fogged up, and the car simply died on the side of the road on two different occasions, requiring a drive unit and a main battery. Perhaps most ominously, the driver-side door spontaneously opened, which Tesla addressed by installing a new handle.
All the fixes were covered under warranty, but people spending six figures on a cutting-edge car don't have much tolerance for these kind of glitches, no matter how beautiful and green and fast the vehicle is. The solace for Tesla drivers (and shareholders) is that Edmunds got one of the earlier sedans. Many of the problems it encountered have been ironed out in the months since.
Edmunds Executive Editor Ed Hellwig said about 25 of his review staff tossed the Tesla keys back and forth on a daily basis. "Obviously, it's a brand-new car from a brand-new company, so it's not that surprising it had some issues," he said. "But the types of issues and the recurring frequency of some of them were odd."
Edmunds reviewers had a lot of nice things to report about its Tesla, as well—most notably, its resale value. The company put 30,300 miles on the car and sold it for $83,000, recouping 80 percent of the original outlay. Hellwig said Edmunds typically gets only 75 percent of its purchase price back after a year of driving.
There still isn't any car quite like a Tesla, but the silent sedan is starting to get a little long in the tooth, which means maintenance issues in early models are likely to multiply from here. On TrueDelta.com, an online resource that gathers reliability data on about 33,000 cars, owners of 2013 Teslas are reporting repairs at four times the average rate among car owners. The 30 or so Tesla sedans that TrueDelta tracks have been going into the shop for unscheduled maintenance once a year, on average.
TrueDelta's Michael Karesh said he has been expecting Tesla's reliability rating to rise, but it has floundered for months. "The real question in my mind is will they get their quality issues in shape by the time they burn through the early adopters?" he said. "Someone like my father, for example, wouldn't put up with these issues."
As for the newer cars, one line of thinking is that Tesla's factories have tightened their processes and now stamp out more flawless cars after learning from experience. The other theory is that early cars were given the white-glove treatment and more recent models may be more prone to glitches, considering they were made as Tesla production accelerated.
Edmunds, meanwhile, is looking to see if either of those ideas hold water—the company already has a deposit down on the Tesla Model X.
Before it's here, it's on the Bloomberg Terminal.
LEARN MORE