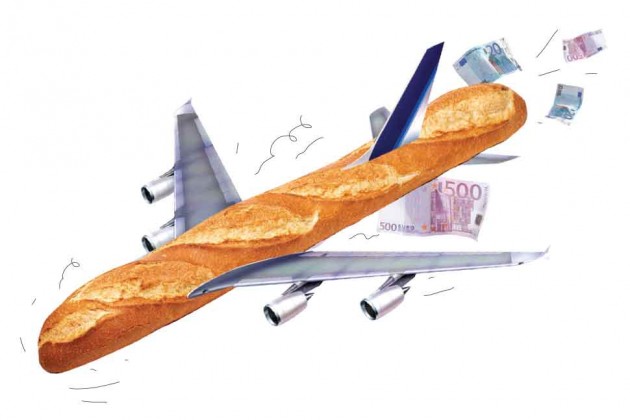 Lisbon real estate agent Paulo Silva says Portugal's booming high-end property market has a Frenchman to thank: François Hollande. "The French president's taxes are prompting many to flee their country," says Silva, who heads real estate agency Aguirre Newman. "Many of these wealthy French are coming to Portugal to take advantage of tax benefits that are better than in other countries."
The French government has collected an extra €70 billion ($94 billion) in taxes over the past three years, in part by taxing income above €1 million at 75 percent. In Portugal, taxes for locals are very high, but foreign retirees can enjoy far lower rates.
The British, attracted by the sun, sand, and sea of this Iberian country, were long the biggest foreign home buyers in Portugal, until the Portuguese sought a bailout when the country's bonds collapsed in 2011. Real estate prices dropped as a result. Now the French have overtaken the British. Sotheby's International Realty has seen scores of French investors buying up Portuguese luxury real estate, says Gustavo Soares, the company's managing director in Portugal. Nuno Durão, head of real estate company Fine & Country, didn't sell a single house to a French person in more than a decade until 2014. So far this year he has closed on five properties valued at up to €1 million each with investors from France. "The French are finally coming to Portugal," Durão says. "They like our country, but they like our tax regime even more."
Under Portugal's so-called non-habitual-resident program, foreign pensioners who come to live in the country have their pension income exempt from taxes as long as the income is paid from a foreign source. A foreigner has to live at least 183 days a year in Portugal to qualify as a tax resident. France only taxes citizens who live in the country—not French who live abroad. "This means that the pension income may end up not being taxed at all," says Luis Filipe Sousa, a tax manager at PricewaterhouseCoopers in Lisbon.
French real estate investor Geoffroy Moreno moved to Lisbon in 2004. He now sells property to his fellow countrymen. The 35-year-old was at a real estate fair in Paris in May promoting the sale of apartments at five buildings he is renovating in and around the Portuguese capital. "I have many French friends calling me about properties in Lisbon," Moreno says. "The French, especially those with money, are looking to escape Hollande's aggressive fiscal policy." French buyers, along with the British and the Chinese, accounted for more than half of the 3,500 property purchases made by foreigners in the first quarter of the year, according to the Portuguese Real Estate Professionals and Brokers Association. The Chinese are seeking to take advantage of the country's property-for-visa program, says Fernando Neves, a real estate agent promoting Troia, a new resort south of Lisbon. "We're telling these clients that tax benefits and golden visas are like golden opportunities," he says. "They won't last forever."
Before it's here, it's on the Bloomberg Terminal.
LEARN MORE