Syfy Master Plan for Sharknado 2 Actually Worked
by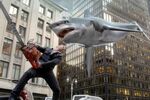 Well, that was a success. A whopping 3.9 million people watched Syfy's Sharknado 2: The Second One on Wednesday night, more than two and a half times the audience of the first made-for-TV movie. To put that in TV ratings perspective, that's 1.6 million more people than watched the most recent season premiere of Mad Men and a full 1 million more than the season finale of cult hit Community.
Sharknado 2 is Syfy's most successful B movie to date, which means that that all the promotion and marketing that went into the sequel actually worked. This all but guarantees that plans for Sharknado 3 will continue.
Even more impressive than the ratings is that the network also managed to take over Twitter: It's been almost a full day since the movie aired and the hashtag #Sharknado2 is still trending—something not easily accomplished. Syfy simultaneously aired the film in all 86 countries where it is carried, hoping that if people tweeted about the show, they'd be doing it at exactly the same time.
The question is: Why were people awake and watching Syfy at 3 a.m. on a Thursday in Germany?
Before it's here, it's on the Bloomberg Terminal.
LEARN MORE