New Obama Order Ups the Ante on Labor Disputes
By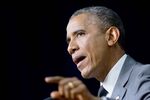 The Obama administration on Thursday announced an executive order intended to improve working conditions for employees of federal contractors, requiring companies to disclose federal labor law violations before procuring a contract.
"Taxpayer dollars should not reward corporations that break the law, so today President Obama is cracking down on federal contractors who put workers' safety and hard-earned pay at risk," the White House said in announcing the move. The key provision of the Fair Pay and Safe Workplaces order requires prospective contractors to disclose labor law violations from the past three years in connection with 14 federal laws providing protections covering wages and hours, safety and health, collective bargaining, family and medical leave, and civil rights.
The order is sure to up the ante for employment and labor disputes, says Connie Bertram, a labor and employment lawyer with the law firm Proskauer Rose in Washington, D.C., who represents federal government contractors and subcontractors. According to the fact sheet released by the White House, the new requirements are "structured to encourage companies to settle existing disputes," suggesting that settlements won't count as a violation, though that's not explicitly stated. "Companies now have an additional factor to consider as part of their risk management analysis" when deciding on everything from proceeding with a lawsuit to terminating a group of employees, Bertram says. "'Will we lose a piece of business or a contract?'"
As worded, the order leaves some questions unanswered—including what exactly counts as a violation and which 14 federal statutes companies must comply with—and pulls together a seemingly disparate group of requirements, from pre-award certification to requiring that discrimination, sexual harassment, and assault disputes with companies holding federal contracts worth $1 million or more be litigated and not subject to mandatory arbitration. "I don't think they'll try to harmonize them. It'll likely result in different mechanisms for the different provisions," Bertram says, and will direct different agencies to do different things.
In the wake of the problems that accompanied the rollout of the healthcare.gov website last year, there's one provision that will probably give people, whether contractors or employees outside the boardroom, pause. From the White House fact sheet: "The Executive Order directs the General Services Administration to develop a single website for contractors to meet their reporting requirements—for this order and for other contractor reporting. Contractors will only have to provide information to one location, even if they hold multiple contracts across different agencies."
Before it's here, it's on the Bloomberg Terminal.
LEARN MORE