Is T-Mobile Doing Too Well to Sell Out to Sprint?
by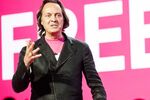 The stories of Sprint and T-Mobile have been linked since late last year when reports emerged that Sprint's owner, SoftBank, wanted to buy T-Mobile. The chances that the U.S. government would approve this have always seemed slim, and increasingly what would be required to push through a merger seems to run counter to what the two businesses would be doing to succeed on the their own in the short term.
For T-Mobile, the question is whether it is doing too well to sell now. It added 579,000 monthly phone subscribers last quarter, according to an earnings report on Thursday, and has now surpassed 50 million customers. At this rate, T-Mobile will pass Sprint as the country's third-largest wireless carrier within a year, according to industry analyst Craig Moffett. T-Mobile also turned a quarterly profit for the first time in a year.
John Legere, T-Mobile's chief executive, said the upstart carrier has finally "stopped the alarm bells" from those worried that the company was undercutting itself along with competitors in its aggressive pricing. "The competitors are responding to our moves," he says.
The company having the most trouble responding is Sprint itself, which lost 245,000 customers last quarter. While it also turned a profit—its first in more than six years—it's in the worst shape of the four major carriers. It still has to spend a lot of money building up its network if it wants to keep up with T-Mobile, AT&T, and Verizon Communications. Its subscriber losses make it likely that the company will also have to cut prices further. "From my perspective, there's no evidence from the reported results that the company is on a trajectory to grow," Jonathan Chaplin of New Street Research told Bloomberg News.
Cutting prices would be complicated for Sprint, because it could undermine its case for a merger in Washington. The Communications Workers of America, which opposes any merger, is already pointing to Sprint's newfound profit as a reason to block the deal. Opponents would have an even easier time arguing against letting competitors combine forces at a time when each one is making life easier on their customers.
T-Mobile's Legere declined to discuss the potential merger directly. He did say that the company is operating as though it will be independent for a long time and doesn't need to do anything differently in the short to medium term. Analysts grilled him on why a T-Mobile, or its parent company Deutsche Telekom, would want to sell out to a struggling company such as Sprint. At the least, it has an incentive to hold out.
"Like the storied campers, T-Mobile doesn't have to outrun the bear. They only have to outrun Sprint," wrote Moffett in a research note. "By waiting, Deutsche Telekom would get a better deal."
Before it's here, it's on the Bloomberg Terminal.
LEARN MORE