Football Shrine Seeks to Teach NFL Values to Corporate America
Mason Levinson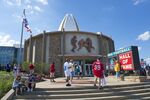 The Pro Football Hall of Fame would like to induct corporate America.
The Canton, Ohio-based museum will enshrine its seven-member Class of 2014 tomorrow: linebacker Derrick Brooks, punter Ray Guy, defensive ends Claude Humphrey and Michael Strahan, offensive tackle Walter Jones, wide receiver Andre Reed and cornerback Aeneas Williams.
David Baker, who in January became the Hall's president and executive director, has aspirations of highlighting the attributes of great football players to build an "academy of excellence" that would host corporate retreats. Also seeking to have a hotel and conference center built next to the Hall, Baker will submit the results of a feasibility study to its Board of Trustees shortly after enshrinement weekend.
"I've spoken to a million sales forces and management teams, and every one of them is trying to build a championship team," Baker said in an interview. "It's not just a museum for football, it is really about a message of excellence for everyone, everywhere."
Baker, the former commissioner of the Arena Football League, played professional basketball in Europe. His son, Sam, is an eight-year offensive tackle for the Atlanta Falcons who was an All-American at the University of Southern California. Having only touched the ball twice in the past dozen years in the game, Sam Baker instead excelled through teamwork, communication and handling adversity, Baker said.
"Football is such a tremendous metaphor for communities working together, for businesses working together," Baker, 60, said.
A Hall-of-Fame themed corporate academy could rival that of Walt Disney Co.'s Disney Institute, which teaches leadership, culture, service, brand and innovation at different locations, including near Disney World in Florida, Baker said.
'Cartoon Mouse'
"There's an institute of excellence down in Kissimmee, Florida, that is all about a cartoon mouse," Baker said. "We've got all these heroes, all these legends, that really stand for these values."
The Hall recently completed a $28 million expansion to its museum, which is about an hour's drive from Cleveland. Museum attendance was 208,191 in 2013, a 12 percent increase from a year earlier.
The museum could use Hall of Famers as speakers at corporate retreats, the way it does for National Football League rookies, Baker said. The league holds its rookie symposium about 40 minutes north of the Hall in Aurora, Ohio, so that players entering the NFL are exposed to the game's history.
Understanding History
This year, every drafted rookie visited the Hall and Williams, the three-time All-Pro who had 55 interceptions during his 14-year NFL career, spoke to the young players "so that they understand the shoulders of the guys that they stand upon," Baker said.
Williams's class will be inducted to the Hall in front of about 13,000 people, while 107 Hall of Famers are expected to join the event that concludes with the Aug. 3 Hall of Fame game between the New York Giants and Buffalo Bills, kicking off the NFL's preseason.
Strahan, the Giants' career sacks leader with 141.5, said he most looks forward to visiting the bust of his mentor Deacon Jones, the defensive end who was enshrined in 1980 and died a year ago. Strahan now co-hosts the television show "Live with Kelly & Michael."
"There are so many great players there that I think I'm going to go there and my jaw's going to drop," Strahan said on a conference call with reporters. "To see the busts and to see a lot of these guys in person, because a lot of them I've never met, now we're family."
Museum Leader
It will be Baker's first enshrinement as the museum's leader. Among his first tasks as executive director was to share the voting results with the new electees, including Guy, who punted for the Oakland and Los Angeles Raiders for 14 seasons. Guy, who had been up for Hall consideration for 28 years and a finalist nine times, was overwhelmed by Baker's news.
"I said, 'Ray, it's my great pleasure,' and he hit the ground and you could hear his phone rattling around," Baker said. "I'm thinking I killed my first Hall of Famer."
Before it's here, it's on the Bloomberg Terminal.
LEARN MORE