Patent Lawyers Gone Fishin'
Lawsuits are rising among makers of gear that help anglers locate fish
by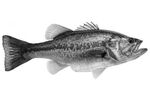 Piloting his 20-foot BassCat over the murky Potomac River on a sunny July afternoon, Rick Kortlang is on the watch for game fish. Rather than endlessly scanning the water's surface, the 58-year-old retiree from Springfield, Va., keeps his eyes fixed on one of his two fishfinders, electronic gadgets that use global positioning technology, sonar, and video-game-like displays to give him sweeping views of the river bottom. Soon, he points out a line of rock visible on one device, with what he says are probably catfish swimming around. In shallower water, he sees a patch of baitfish, making it a good bet that coveted largemouth bass lurk nearby. Forget intuition or the secret locations of fishing holes passed down from father to son. For today's serious angler, Kortlang says, "it's all about the toys."
The gear obsession that's gripped fishing fans like Kortlang in recent years has sparked a race among makers of marine electronics, such as Flir Systems, Garmin, and Japan's Furuno Electric, to roll out the latest fishfinder features. They're also rushing to the courthouse if rivals introduce advances that look a bit too similar. Five of the biggest manufacturers are locked in legal battles over the alleged copying of features; four patent-infringement complaints have been filed in the past two months alone.
Flir's Raymarine brand has sued and was sued by Furuno. Furuno has also sued Navico, owner of the Lowrance and Simrad lines, which in turn has sued Raymarine. Garmin was sued by Navico, Johnson Outdoors, and Furuno. "There's been a bit more of a competitive rivalry in recent years," says Jonathan Ho, an analyst at William Blair. "You want to have the leading technology so you can displace the other players."
Much is at stake. In 2011, the most recent year for which data are available, fishing enthusiasts spent $469.8 million on fishfinders and other electronics to enhance their edge, according to the U.S. Fish and Wildlife Service. And they have a lot more purchasing power: The American Sportfishing Association says licensed anglers dole out $46 billion annually on fishing equipment, transportation, lodging, and other expenses associated with the sport.
Today's fishfinders are several generations removed from the depth sounders commercial vessels used in past decades. Now even skiff owners have the kind of bottom-mapping prowess once limited to the likes of shipwreck hunters and the military. Basic models can be had for as little as $100. The hottest innovation is side-viewing capability, which allows a user to see a wide underwater swath—not just beneath the boat but on all sides. Such technology has gotten better and cheaper just as bass fishing has been elevated into a national spectator event. There are championships for high schoolers, and tournaments on ESPN2 have helped turn Kevin VanDam, Skeet Reese, and other fishermen into millionaire celebrities.
That's led more manufacturers to introduce gear for fishing in lakes and rivers—shallower waters where side-view models perform particularly well. Both the Raymarine and Simrad lines have moved into this so-called freshwater segment, challenging two longtime stalwarts, Johnson Outdoors' Humminbird subsidiary and Navico's Lowrance brand. In 2011 enthusiasts spent $304 million on freshwater fish-finding and depth gear, up from less than $200 million in 1991.
That new competition has brought ore legal challenges. Johnson Outdoors, in a complaint filed on July 18 with the U.S. International Trade Commission, said Garmin copied its side-view technology. Johnson says it spent five years developing its side-viewing devices, which have become "Humminbird's most important and profitable products" since their launch in 2005. Navico says Garmin in 2012 hired seven former Navico engineers—including three who were the named inventors on the three Navico fishfinder patents in its complaint—before introducing its own side-view devices two years later.
Navico also says it spent more than six years and millions of dollars at its Tulsa facility to develop its down-view technology—which it says generates "sharp, picture-like images" of things like fish, sunken trees, and rocks. Other companies have licensed the technology from Navico, which claims Garmin incorporated the inventions into its own devices without permission. Representatives for Garmin and Johnson declined to comment on litigation. In an ITC filing, Garmin denied incorporating any of Navico's technology into its products. A Navico spokesman had no comment.
Kortlang, who's fished the Potomac since he was 6, knows where to look for bass depending on the time of year or phase of the moon. Even so, when it comes to his regular outings or participating in monthly bass tournaments, he's not giving up his two fishfinders, which he figures ran him a combined $2,300. One sits at the front of the boat and the other by the steering wheel. Each Lowrance model renders the bottom with the clarity of a video game, showing colorful inverted V's (which he says are catfish, or maybe carp) or a round cluster of dots (the likely baitfish). Still, the technology has limits. "It's just another tool, like the fishing pole or the boat, to find what you're looking for," Kortlang says. "Just because you find them doesn't mean they'll bite."
Before it's here, it's on the Bloomberg Terminal.
LEARN MORE