Delivery Giants Are Finally Shrinking Their Carbon Footprints
By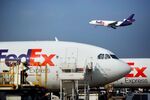 Shipping millions of packages around the world on airplanes and trucks is a carbon-intensive business that delivery giants such as FedEx and United Parcel Service have struggled to control. In the past, they've fallen far short of goals to use more hybrid-electric alternatives (even as FedEx promoted its environmental efforts), as Bloomberg News reported in December.
Now, the shipping industry appears to be making some subtle progress.
In recent months, three of the biggest delivery companies—FedEx, UPS, and DHL—have released environmental data that show their overall emissions of global warming gases are declining slightly. This is particularly notable at FedEx and UPS, where a slight dip in emissions has come amid overall business growth.
UPS cut global warming emissions 1.5 percent in 2013, while revenue climbed 2.4 percent, Bloomberg News reported on July 30. FedEx trimmed (PDF) 2013 emissions by 1 percent as its sales grew 4 percent. DHL lowered emissions by 3 percent in 2013, compared with a 1 percent decline in revenue.
The companies have taken different approaches. FedEx has continued to move slowly on alternative-fuel vehicles such as hybrids or full-electric trucks. Its alternative-fuel vehicles numbered 709 in 2013, about 1 percent of its FedEx Express fleet. Instead, it's swapping out its delivery vehicles for smaller, diesel-powered vans, which are 65 percent to 85 percent more fuel-efficient than the vehicles they're replacing. The company continues to replace older aircraft with newer models that are 18 percent to 36 percent more fuel-efficient. The changes in aircraft alone saved 230,000 metric tons of emissions in 2013.
UPS, meanwhile, is building up its fleet of heavy-duty delivery trucks fueled by liquefied natural gas. At the end of 2013 it had 249 such trucks on the road, and it aims to increase that number to more than a thousand in 2014. The company also launched a technology program called Orion, which provides delivery drivers with the optimal route. UPS expects the program, which stands for On-Road Integrated Optimization and Navigation, to save fuel and trim 14,000 metric tons of greenhouse-gas emissions in 2014.
DHL provides less-detailed information (PDF) in its environmental report than its peers. But it disclosed that its number of vehicles with "alternative drive systems" increased 66 percent in 2013, to 3,051.
Before it's here, it's on the Bloomberg Terminal.
LEARN MORE