Distressed-Debt Investors Turn to Italian Banks' Bad Loans
Private equity firms look to buy shaky loans on the cheap
by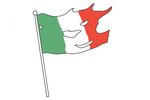 Investors who buy troubled loans are flocking to Italy as banks begin disposing of the nation's record stockpile of dicey debt. An unprecedented €166 billion ($224 billion) of nonperforming loans are on bank balance sheets, according to the latest data from the Italian Banking Association, up from €42 billion in 2008.
The country's two-year recession swelled delinquent loans to 8.9 percent of total lending in May, the highest in more than 15 years, says the banking association. The economy, which shrank again in the first three months of the year after emerging from the downturn in the fourth quarter, is expected to expand 0.3 percent this year and 1.1 percent in 2015, a Bloomberg survey of economists shows. "Foreign investors have become more interested in the debt because it's a good way to bet on the recovery of the country," says Massimiliano Bertolino, founder and chief executive officer of Fare NPL, a real estate loan fund in Milan that helped London's Bayside Capital purchase its first Italian bad loan portfolio in May. "The potential upside is very high."
Private equity firms including London-based AnaCap Financial Partners and New York-based Fortress Investment Group have started acquiring at least €7 billion of the debt from various banks, according to data from PricewaterhouseCoopers. UniCredit, Italy's largest bank, is selling its bad loan management unit, which holds more than €4 billion of nonperforming loans. Several private equity firms have made offers for it, say people with knowledge of the matter who asked not to be identified because the process is private.
Distressed-debt investors profit from loans that are close to or in default by buying them at a discount and then waiting for them either to be repaid or to increase in value as economic conditions improve. Loans backed by assets such as real estate also offer investors the opportunity to acquire the underlying collateral in lieu of payment. Investors are turning to Italy after buying up troubled assets in Ireland, Spain, and the U.K., where banks have been selling nonperforming loans to meet new capital regulations.
Italian banks are joining them in selling off soured debt as the European Central Bank evaluates the assets of the euro zone's lenders before taking over as the region's banking supervisor in November. "The asset quality review will be the trigger for banks to focus on building cleaner balance sheets, cutting costs, and disposing of bad assets," says Pietro Stella, a portfolio manager at Ares Management in London, which acquired its first Italian nonperforming loans from Credito Valtellinese Scarl this year. "Italy is becoming the new epicenter of the disposals of noncore assets by European banks."
Italian banks have been slower to sell bad loans in part because Italy didn't have the kind of real estate slump that ravaged Spain and Ireland. The severity of the crisis in those countries forced banks to dump loans at fire-sale prices. Italian banks were able to hang on and wait for better times, says Stella.
As Italy's property market improves, says Antonella Pagano, a partner at PricewaterhouseCoopers in Milan, sales of loans backed by real estate may increase because banks will get higher prices for them. "The Italian real estate market has stronger fundamentals than other southern European markets," says Fabio Longo, a director at money manager Sankaty Advisors in London. "We see Italy as a core source of opportunities."
Before it's here, it's on the Bloomberg Terminal.
LEARN MORE