Congress on Summer Break, Crucial Legislation on Hold
Crucial legislation is put on hold as Congress goes on summer break
By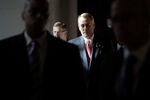 Lawmakers in Washington applauded themselves on July 28 for reaching a $17 billion bipartisan deal to ease long waits at veterans' hospitals. If passed by the House and Senate and signed by the president, it will create 27 Veterans Affairs facilities and expand the types of non-VA hospitals and clinics where veterans can receive care. It will also give the VA secretary more authority to fire senior executives. Yet as members of Congress pack up for their five-week summer vacation—sorry, "district work period"—they leave behind a number of problems that won't just go away in their absence.
The flash of bipartisanship that led to the vets deal has devolved into dispiriting election-year sniping over what to do about the tens of thousands of unaccompanied children illegally crossing the U.S.-Mexico border. House Republicans have proposed a stopgap plan to spend about $659 million to fund security at the border through September. The federal government would reimburse states that send the National Guard to patrol the Southwestern border.
Few Democrats support the House border bill, because Republicans are pairing the funds with a provision that would make it easier to deport children from El Salvador, Guatemala, and Honduras, the three countries most of the children are fleeing. A bill put forth by Senate Democrats to spend $2.7 billion on border enforcement is likewise opposed by Republicans.
Senate Majority Leader Harry Reid said if House Republicans send their border bill to the Senate, he might attach it to the Democrats' comprehensive immigration plan that includes a path to citizenship for undocumented immigrants—rendering it toxic to Republicans. House Speaker John Boehner accused Reid of "making a deceitful and cynical attempt to derail" the bill. "Let me be as clear as I can be with Senator Reid," Boehner said in a statement. "The House of Representatives will not take up the Senate immigration reform bill or accept it back from the Senate in any fashion." That pretty much sapped any chance for compromise.
Even though Congress returns in September, the final months of the year can best be described as an extended leave interrupted by occasional working days. House lawmakers are in for just 12 days in September and October and return after the November elections for 15 days before the calendar flips. That doesn't leave much time to hash out border security or take up any number of other issues that are stacking up, mostly having to do with money.
On Sept. 30, $103 billion in federal funds for bus, rail, and other mass transit services will expire. Lawmakers say they'll extend the funding, but not for long. A Senate plan would pay for projects through Dec. 19, a House version until next May.
Federal backing of insurance that protects companies against losses from acts of terrorism is set to expire at the end of the year. The Senate passed a measure to extend the coverage through 2021, but the House hasn't acted.
After months of haggling, there's also no resolution over whether to renew scores of tax breaks for businesses and individuals that expired on Dec. 31.
Tea Party groups are at odds with the GOP's business wing, led by the U.S. Chamber of Commerce, over whether to renew the charter of the U.S. Export-Import Bank, which also expires on Sept. 30. Conservative activists want to eliminate the agency, which helps finance U.S. exports. Business interests want to preserve it.
Congress will also have to reach agreement on funding the federal government itself. Washington's authority to spend money expires at the end of September—unless lawmakers once again extend it temporarily with a continuing resolution, in what's become a recurring ritual in place of actually passing a budget.
A pressing question for the GOP is whether Tea Party members will try to block a budget bill unless it contains spending cuts, a move that could endanger the party's hopes of winning the Senate this November. Congress's approval rating hit a record low of 9 percent after conservative activists forced a partial government shutdown over the budget last October. Lawmakers' popularity has since bounced back, a bit. The latest Gallup poll shows when members of Congress arrive home for summer, a full 15 percent of voters will be happy to see them.
BOTTOM LINE -
The bottom line: After its five-week break, Congress has just a handful of working days left in the year to pass urgent legislation.
Before it's here, it's on the Bloomberg Terminal.
LEARN MORE