Chinese TV Maker Hisense Takes Aim at Sony
Hisense is pushing into the U.S. with a bet on ultra HD and smart TVs
By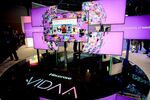 Most Americans shopping for a TV have heard of Panasonic, Sharp, and Sony, the big three Japanese brands. By the time they buy, most have seen models from South Korea's Samsung and LG, the global leaders. More obscure in the U.S. are these companies' Chinese counterparts, such as Skyworth, TCL, Changhong, and Hisense. Yet Hisense has grown into the No. 4 seller of TVs worldwide, according to DisplaySearch, an arm of market researcher NPD Group. It's targeting early adopters in the U.S. as it seeks to become No. 3.
Based in Qingdao in northeast China, Hisense has 6.4 percent of the global TV market, DisplaySearch estimates, up from 5.1 percent a year ago. That puts it well behind No. 1 Samsung's 29.6 percent and No. 2 LG's 17 percent but within striking distance of Sony, which has 6.8 percent. Hisense has been spreading its money around: It sponsors an Australian Open tennis arena and a pro soccer team in Germany. In the U.S. it has struck deals with big-box retailers and, more symbolically, took over the 9,600 square feet of space that used to belong to Microsoft at the annual Consumer Electronics Show in Las Vegas. "If we want to survive, Hisense has to become a global company," says Lan Lin, Hisense's executive in charge of international strategy.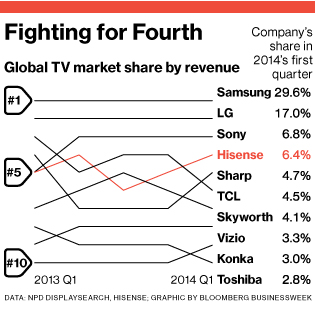 Hisense also makes cell phones and other electronic gear, but it's focusing on TVs as it tries to duplicate its success in China, where it has almost one-fifth of the market. As with Lenovo and other Chinese tech companies, it's relying in part on discounts made possible by volume. At Walmart stores, its $230 32-inch TV and $650 55-inch model aim to be about 15 percent cheaper than comparable Sony models. "With our position in the China market, we build an awful lot of units," says Chris Porter, director of product development at Hisense's U.S. headquarters in suburban Atlanta.
With an eye to the gadget-hungry U.S. audience, Porter wants to make sure Hisense isn't just competing on price. Its 140-person North American R&D team has helped develop an Android-powered smart TV that lets viewers switch back and forth easily between broadcast TV and Internet streaming video. It's also working on ultra-high-resolution 4K TVs and curved models, designed to be more immersive, as it prepares to hire an additional 30 to 40 researchers. A partnership with streaming-device maker Roku will produce a Roku-integrated streaming Hisense TV "very soon," says Hisense's North American chief technology officer, Christophe Jouin. Despite China's reputation for knockoffs and copycats, the company says it spends 8 percent of its $18 billion in revenue on R&D, up from 5 percent two years ago. "We don't just copy," Porter says.
In addition to Wal-Mart, Hisense established partnerships with Best Buy, Costco, P.C. Richard & Son, and Sam's Club. It had only 1.3 percent of the U.S. TV market last year but sees an opening: Japanese companies have been retreating from TVs, squeezed between high-end South Korean models and cheaper Chinese ones. Sony hasn't turned a profit in its TV business in 10 years and in July set up Sony Visual Products as a separate unit. Sony says it expects to make its TV arm profitable this year by cutting support costs and shifting its focus to more high-tech models. It declined to comment on competition from Hisense.
Winning over tech-savvy U.S. consumers will be tough, says Bloomberg Intelligence analyst Jitendra Waral. Hisense's higher-end features aren't revolutionary enough to make the company's TVs a must-buy, he says, and development costs for its ultra HD and smart models have weighed down profits this year. "Competing on price is what these guys can do," he says. But with some of the established TV brands backing away from the business, "we see an opportunity," says Peter Erdman, Hisense's vice president for U.S. sales, who previously worked for Panasonic and Samsung. "There's a white space in the middle."
Before it's here, it's on the Bloomberg Terminal.
LEARN MORE