Adidas to Lufthansa Reel as Russia Standoff Impacts Sales
Kari Lundgren and Richard Weiss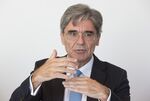 European companies ranging from Adidas AG to Deutsche Lufthansa AG said unrest between Russia and Ukraine is dimming prospects for growth as consumers trim spending and suppliers shy away from ordering equipment.
Adidas scrapped a growth target for next year, citing a slump in demand for golf supplies in North America combined with turmoil in Russia, a country the German company previously called one of its three "attack markets" and where instead it will now close stores. Anheuser-Busch InBev NV said beer sales in Russia and the Ukraine fell in the second quarter, while Lufthansa saw a passenger drop on routes to the two countries.
"Geopolitical tensions such as in the Ukraine and Middle East pose a serious risk for Europe's growth in the second half," Siemens Chief Executive Officer Joe Kaeser said. "If there will be more sanctions and escalation, it's clear this will have an impact on the German economy."
On the busiest corporate earnings day this quarter, European companies sized up Russia's increasing political and economic isolation in the wake of the Ukraine conflict and the downing over territory held by pro-Russian separatists of Malaysian Air MH17 this month that killed 298 people. With longstanding trade relations, the fallout is creeping into the earnings of some of Europe's largest companies as Russian President Vladimir Putin's standoff with Ukraine stretches into its 11th month.
Canceled Flights
Germany's VDMA machine makers' association cut its 2014 industry production growth forecast to 1 percent from 3 percent and said today that the conflict is "impairing demand in important export markets." While domestic demand helped compensate for a drop in foreign orders in the first half of the year, "business risks and the accompanying uncertainty for investors has significantly increased in recent months."
Lufthansa's Austrian unit today said revenue and passenger numbers on routes to Ukraine and Russia declined, and crises in the Middle East forced it to pause flights to Damascus in Syria, Libya and Baghdad. Austrian's first-half operating loss widened 26 percent to 44 million euros ($58.9 million).
Ukraine beer sales in the second quarter plunged more than 20 percent, and the political situation is "affecting trading in a big way," Anheuser-Busch InBev Chief Financial Officer Felipe Dutra said today. "It's very hard to predict when it's going to get better."
'Not Good'
EU governments agreed on July 29 on their most sweeping sanctions against Russia to date, barring state-owned banks from selling shares or bonds in Europe, restricting the export of equipment to modernize the oil industry and prohibiting export of equipment with military uses.
The EU also froze assets of Russian oligarchs Arkady Rotenberg and Yury Kovalchuk in the bloc's first strike against business figures described by European leaders as Putin's "cronies." In Washington, lawmakers questioned yesterday whether sanctions are enough to deter Putin, as they urged President Barack Obama to provide arms to Ukraine's military.
"For business, sanctions are not good," said Elena Smirnova, the head of German carmaker Audi in Russia. "For sure, we in the automotive industry will also feel it"
A 10 percent drop in Russian car production in the first half is also weighing on car part and tire sales for Continental AG, CFO Wolfgang Schaefer said today. While Russia accounts for less than one percent of total sales, "we do notice it," Schaefer said.
Incalculable Risk
The sanctions have intensified a sell-off in the ruble and capital flight from Russia amid its worst standoff with the U.S. and its allies since the Cold War, pushing the economy to the brink of recession. Investors signaled concern over the impact of sanctions on the $2 trillion economy with government bonds headed for their worst monthly losses since May 2009.
"A lot of companies do business with Russia, but it's asymmetric, because Russia has a lot more to lose from this than Europe as a whole," said Arnab Das, founder of London-based consultancy Das Capital. "We're in a state of flux where the dynamic and the calculus changes to a much less calculable risk for an investment fund or for somebody with plants and equipment on the ground."
Energy companies may be among the hardest hit by the sanctions. BP Plc, owner of 20 percent of state-backed OAO Rosneft, warned Tuesday of risks to its profit and production due to the crisis. France's Technip SA lowered its outlook for profit margins on some types of projects this week.
Volatile Outlook
Siemens may no longer be able to sell equipment to Russian companies like OAO Gazprom and pipeline operator OAO Transneft. Siemens's 3,100 employees in Russia generated 2.2 billion euros in sales from the country last year.
"As for 2015, it's difficult to forecast what's going to happen and what kind of solution will be found," Kaeser said.
Some companies said they're largely shielded from any fallout of sanctions against Russia, which jet-engine maker Rolls-Royce Holdings Plc predicted will have a "relatively small" impact on sales. At Safran SA, whose Snecma unit makes engines for aircraft, CEO Jean-Paul Herteman predicted "no impact" on the civil business and only a minor reduction in defense revenues.
"The macroeconomic situation has rarely been so volatile and fragmented," Volkswagen CFO Hans Dieter Poetsch said today. "That's why it's more important than ever before for us to stick to our disciplined cost and investment management and to maintain our solid financial position."
Before it's here, it's on the Bloomberg Terminal.
LEARN MORE