Yukos $50 Billion Ruling Tops Any State Stake: Chart of the Day
Ksenia Galouchko and Radoslav Tomek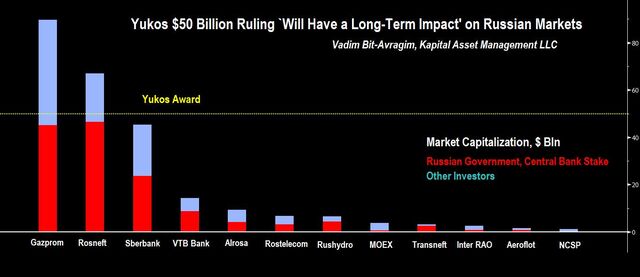 The $50 billion compensation Russia must pay the former owners of Yukos Oil Co. exceeds the market value of the government's stake in any publicly traded company in Moscow.
The CHART OF THE DAY compares the size of the award by the Permanent Court of Arbitration in The Hague with the value of the government's corporate holdings among companies in the benchmark Micex Index. The biggest state stake is in OAO Rosneft, Russia's largest oil producer, and is worth about $46 billion, according to data compiled by Bloomberg.
"This is a significant sum and this decision will have a long-term impact," Vadim Bit-Avragim, who helps oversee about $4.1 billion at Kapital Asset Management LLC in Moscow, said by phone on July 29. "This is very negative in the long run for the sentiment toward Russian assets."
The court found that Russia is liable to pay just under half of the $114 billion sought in compensation for the company's dismantling, GML Ltd., the holding company for Yukos's main owners, said on July 28. The amount Russia owes under the suit is equivalent to about 57 percent of its National Wellbeing Fund, a sovereign wealth fund, and about 11 percent of its foreign exchange and gold reserves. The award exceeds the market cap of OAO Sberbank, the country's biggest lender.
The decision risks dragging Rosneft and OAO Gazprom into extended legal wrangling. The state-run companies may be targeted because they were beneficiaries of expropriated Yukos assets, said GML's lawyer, Yas Banifatemi. Most of Yukos's largest assets were acquired in a series of forced sales by Rosneft, which has since become the world's largest publicly traded oil company by output. Gazprom bought stakes in former Yukos natural-gas assets that Eni SpA and Enel SpA won at auction in 2007.
Before it's here, it's on the Bloomberg Terminal.
LEARN MORE