What Happens Now That Argentina Is in 'Selective Default'
by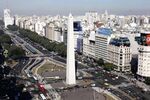 Default is a major disaster for a government, but not much will happen right away now that Standard & Poor's has declared Argentina to be in "selective default."
S&P took the action today after Argentina's talks with holdout creditors continued past the end of the 30-day grace period for a $539 million bond payment.
Defaults are usually bad for bond prices. But prices for Argentine bonds soared today to their highest level since 2010. They rose 10¢ to reach almost 96¢ on the dollar. That's because investors are increasingly optimistic that Argentina will strike a deal with its creditors. Goldman Sachs said that Argentina will probably cure the default in the next few days if an agreement is reached during meetings taking place now in New York.
Argentina defaulted on $95 billion in government bonds in 2001. Holders of about 92 percent of the bonds accepted restructurings worth about 30¢ on the dollar. But a group of U.S. hedge funds, led by billionaire Paul Singer's Elliott Management, hold old bonds that weren't exchanged and are demanding payment in full. A U.S. judge took their side, saying Argentina can't make payments on the new bonds unless it also makes payments on the ones controlled by the holdouts.
Technically, the Standard & Poor's rating action gives holders of the new bonds the right to demand immediate and full repayment. But given Argentina's parlous financial condition, that's impossible, and the bondholders know it, as Bloomberg View columnist Matt Levine observes in this handy review.
The more meaningful impact of the missed deadline is likely to be on credit default swaps, which provide investors with protection against default. It's up to the International Swaps & Derivatives Association to determine whether a default has occurred. If it does, holders of the credit default swaps are entitled to a big payment. People can buy swaps to speculate on a default even if they don't own any Argentine bonds. There is a small possibility that ISDA will disappoint those speculators by not declaring a default, since a deal could be worked out any day now.
Governments that default on their debt tend to have trouble borrowing on the international market. That's nothing new for Argentina—it has been cut off ever since its 2001 default. Still, the longer this new default drags on, the harder it will be for Argentina to get renewed access to the world's capital markets.
Before it's here, it's on the Bloomberg Terminal.
LEARN MORE