Sweden's Krona Sinks as Economic Growth Misses Forecasts
Niklas Magnusson and Kim McLaughlin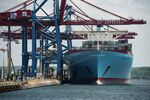 Sweden's krona sank after a report showed the largest Nordic economy expanded less than forecast last quarter.
The news sent the krona down as much as 0.5 percent against the euro to trade at 9.2378 as of 10:31 a.m. in Stockholm. Versus the dollar, it sank 0.6 percent.
"This is disappointing and indicates that Sweden's economic recovery isn't as strong as we had expected," Magnus Alvesson, head of economic forecasting at Swedbank AB, said by phone. "External demand is weaker and companies' investments are delayed while consumers continue to spend."
Gross domestic product grew a quarterly 0.2 percent in the three months through June after contracting 0.1 percent in the first quarter, Statistics Sweden said today, citing preliminary data. GDP was seen expanding 0.6 percent in a Bloomberg survey of 11 economists. The economy grew an annual 1.9 percent, compared with an estimate for 2.4 percent. The report followed a set of indicators earlier in the day, which showed Swedish households were less confident than estimated in July.
"Remember that today's GDP report is a flash estimate and that the figures, especially for certain components, should be taken with a pinch of salt," Torbjoern Isaksson, chief analyst at Nordea Bank AB's markets research unit in Stockholm, said in a note. "Nevertheless, it is a strong indication that the economy underperformed in the first half of the year. The weak growth supports the Riksbank's soft stance, although inflation is the focal point."
Fighting Deflation
Sweden's economy has outgrown Europe on average since the debt crisis hit half a decade ago, as consumers enjoy rising wages and wealth amid cheap credit. Still, sluggish European demand and a strong krona have hampered exports and resulted in Scandinavia's highest jobless rate. Unemployment rose to 9.2 percent in June, its highest level in three years. Consumer prices have declined for five of the past six months, on an annual basis.
Sweden's central bank earlier this month cut its main interest rate by a larger-than-expected half a percentage point to 0.25 percent to fight off the threat of deflation. The Riksbank, which foresaw 2.4 percent annual economic growth last quarter, predicts GDP will expand 2.2 percent this year and 3.3 percent in 2015.
"The data confirms the view that the Riksbank took earlier this month and as such is neither a signal of a further cut or a signal of faster increases to the repo rate," Alvesson said.
Before it's here, it's on the Bloomberg Terminal.
LEARN MORE